Kangaroo Island Nature and Night Photography Walk
Saturday to Tuesday, 
October 22-25, 2022 | Price $3,095 per person
During an ideal time for viewing night skies, journey to remote Kangaroo Island for an extraordinary photography workshop. Walk to beautiful, remote places with celebrated nature, night and aurora photographer, Luke Tscharke and discover this remote Island's spectacular sights. 
This all-inclusive four-day guided experience is for intimate groups of no more than 14 walkers and includes architect-designed private accommodation with sumptuous meals prepared by our naturalist guides. Each day and evening, you will venture out with Luke to a diverse range of habitats, from the ocean to rocky shores, remote beaches and coastal heath and improve your photographic techniques. The dates for this trip provide an ideal window for astrophotography. 
Nine thousand years ago, Kangaroo Island separated from mainland Australia forming a unique landscape of wild and raw beauty. This wild outpost is located 20 kilometres off the South Australian coast. Gondwandan megafauna, abundant wildlife, towering sea cliffs and broad sunsets with a glass of red in hand form part of your discovery of the Kangaroo Island's tracks. 
 Direct bookings only.  For all enquiries and bookings please contact the Australian Walking Company on +61 3 5237 4276 or email bookings@auswalkingco.com.au.  
Photo Credit: Timothy Poulton
Introducing Luke Tscharke
Luke is an award-winning Australian landscape, nature, and travel photographer based in Hobart, Tasmania. His major passion is inspiring people to respect and connect with the natural beauty in the world around them.

Previously working as a biologist, Luke began photography as a hobby. It soon became a full-time career and lifestyle, exploring nature, rain, hail or shine, and experimenting with the latest equipment and processing software. He has merged his passion for photography with his love of bushwalking, creating memorable natural landscape images from locations across his beloved Tasmania, wider Australia and other parts of the world.

The quality of Luke's work has been recognised by awards in many photography competitions; publications in books, calendars and magazines; and work with corporations and charities. Recent collaborations include Australian Geographic, Tourism Tasmania and Sony Australia.
Nature and Night Photography Experience
Day One
Today is primarily devoted to logistics as we drive, boat and walk into the wild. Packing, transfers to the trailhead, a ferry trip, pack fitting, walking and settling into the cottages take up our daylight hours.
Approximately 3 hours walking through coastal woodland. Birdlife, kangaroos, wallabies, geese, echidnas and goannas are regularly seen on this walk.
Sunset at 7.42 pm - shoot the sunset from Cape de Couedic Lighthouse.
After dinner - night sky and/or light painting photography workshop. 
Night photography - Milky Way with the lighthouse from 12.30 am to 1.30 am for those that are game. It is suggested that those who do stay up forego sunrise.
Day Two
Sunrise 6.28 am - optional sunrise shoot from 6 am. 
Approximately 5-7 hours walking along the spectacular coastline of south-west Kangaroo Island.
Photography opportunities include:

Photography from the coastal cliffs towards the Cape du Couedic lighthouse. 
A sunset shoot from 7:15 pm with sunset at 7:43 pm from Admirals Arch or Remarkable Rocks.
Nighttime options again include stars and Milky Way photography, aurora where possible and light painting. If cloudy or rainy, Luke will provide an indoor masterclass on aurora and night photography tips.
Day Three
Sunrise 6.27 am - optional sunrise shoot from 6.00 am. Approximately 6 hours walking with daypacks through silver gum forest to the highest sea cliffs in the Southern Hemisphere.
Photographic opportunities include Remarkable Rocks, shooting long exposures at the lookouts, expansive horizons towards Sanderson Bay and dramatic early-spring skies and wildflowers and wildlife where encountered.
A sunset shoot from 7:15 pm with sunset at 7:44 pm.
Nighttime options include stars and Milky Way photography, aurora where possible and light painting. If cloudy or rainy, Luke will provide an indoor night-sky photography workshop.
Day Four
Sunrise 6.26 am - optional sunrise shoot from 6.00 am. 
Photography at Hanson Bay - weather and time permitting.
*The experience is a combination of walking and photography. Opportunities to take photos in remote locations are scheduled around walk logistics which are given first priority.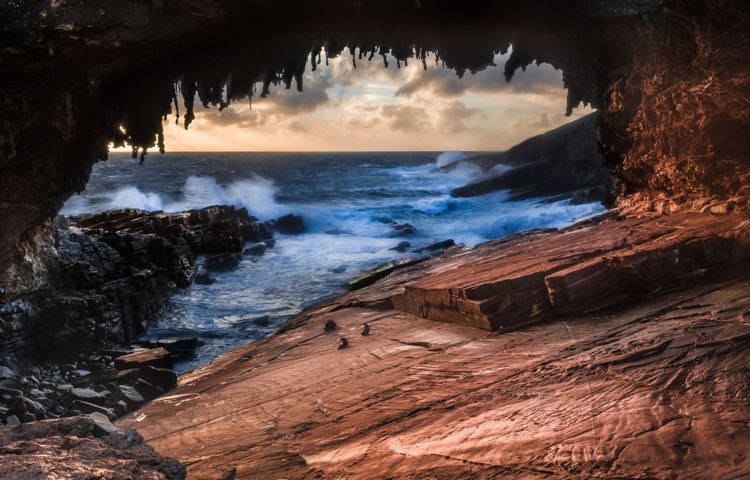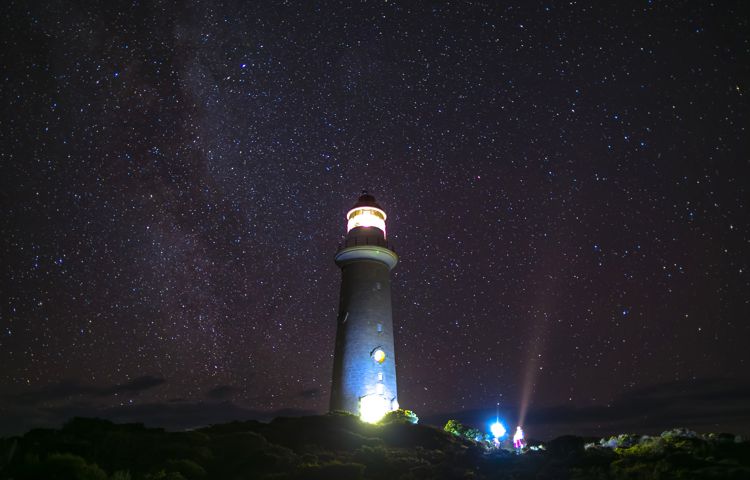 Recommended Photography Gear List
*This gear is to be carried in addition to your other gear. Please see our Gear List for details.
Wide-angle lens - For landscapes and night photography (ideally 16-35mm or similar).
Mid-zoom lens - For wildlife, nature, and distant landscapes (24-105mm or similar).
Long-zoom lens - For distant landscapes (70-300mm or similar) (optional).
Macro lens - For flowers and insects (optional).
Tripod -Lightweight tripod suitable for carrying during walking in a backpack.

ACCESSORIES
Batteries x 3 - Fully charged. There are limited opportunities to recharge batteries at the solar-powered lodges.
Battery charger
SD card x2 - Empty cards.
Photo Credits: Admirals Arch by Michael Waterhouse Photography, Remarkable Rocks by Isaac Forman, Cape du Couedic Lighthouse by Gab Rivera
Day 1: Adelaide to Flinders Chase National Park and 
Cape du Couedic
Approximately 3 hours walking | Distance: 8 km
Our bus collects guests in Adelaide and travels via the Sealink ferry to the Flinders Chase National Park - details are yet to be confirmed.
Our first walk on Kangaroo Island is a 3-hour walk plus pauses for photography through the diverse habitats of Rocky River. Passing through forest and woodland offers excellent chances to observe birds and spring orchids. The trail is even and enables us to complete both the Platypus waterholes Walk and Black Swamp hike.
Our final destination is the Cape du Couedic Cottages, an hour from our first walk. We'll settle into three heritage-listed Light Keeper residences, built from hand-carved limestone back in 1907.  Thoughtfully restored, these historic quarters feature twin-share rooms and sensitively designed new bathrooms.  Our communal pavilion - The Commons - is where we'll share good wine and a barbeque bounty featuring local Kangaroo Island sourced lamb.
Evening independent walks to Weirs Cove and Admiral's Arch are short and easily accessed from the cottages.
Tonight, relax as the guides prepare an early three-course meal. Enjoy a glass of Kangaroo Island wine as you chat about photography.  These informal sessions enable lots of discussion about the day's habitats and wherever such conversations lead.
The evening finishes with an optional sunset photography session at the lighthouse.
Day 2: Snake Lagoon to Cape du Couedic
Approximately 7 hours walking and birding | Distance: up to 14km
The day begins early with an optional 6 am sunrise photo shoot. Sunrise is at 6:28 am.
After a hot breakfast, we drive an hour to Snake Loggon and the beginning of a track that heads east towards spectacular limestone cliff formations and eventually brings us back to the Cottages. This day of walking allows us to access a remote one-way section of the Kangaroo Island Wilderness Trail with spectacular photographic opportunities from the coastal cliffs toward the Cape du Couedic lighthouse. From rocky headlands to Maupertuis Beach and the shipwrecked Loch Sloy, there are areas with high exposure to the prevailing Westerly and South-westerly winds. We will be carrying lightweight photographic gear today. 
We'll return to Cape du Couedic via the historic Light Station, Lighthouse and Light Keeper residences which provide an interesting historical narrative. This area is an iconic site with the opportunity to visit the nearby New Zealand Fur Seal colony as a side trip either at the end of the day or early the following morning.
After dinner, Luke will lead a nighttime photography session. This includes a sunset shoot at 7:43 pm at Admirals Arch or Remarkable Rocks. Nighttime options include stars and Milky Way photography, aurora where possible and light painting. If cloudy or rainy, Luke will provide an indoor masterclass on aurora and night photography tips.
The dates for this trip provide an ideal window for astrophotography. 
Day 3: Remarkable Rocks to Sanderson Bay
Approximately 7 hours birding and walking | Distance: 7km
Our stunning day of walking and photography today includes spectacular scenery, coastal heath and mallee forest habitats.
The day begins early with an optional 6 am sunrise photo shoot. Sunrise is at 6:27 am. After a late night, you can choose to sleep in and have a relaxed morning and a late breakfast. For those who'd like a morning walk, there are independent options close by.
A short stroll from the cottage, down the headland to reveal Admirals Arch, a significant geological formation. View the pounding waves of the Southern Ocean. As you walk down, watch out for long-nosed fur seals basking in the sun on the rocks. The boardwalk descends stairs down into a bay before emerging in Admirals Arch, where viewing platforms allow you to watch the seals closer. There is a short hike is to Weirs Cove where fresh supplies were offloaded by boat for the lighthouse keepers and their families. Walking out you can catch glimpses of Remarkable Rocks, and on your return you will see the Cape du Couedic lighthouse on the horizon.
Our guided walk begins at the iconic granite formations of Remarkable Rocks. We walk the cliff-hugging trail ahead, delivering unobstructed views along the southern coast of Kangaroo Island. The day's walking concludes at Sanderson Bay where the Southern Ocean dumps huge waves across the shore. 
After a day of epic coastline vistas, we'll retire to the cottages for another evening shared with like-minded naturalists, local wine, beer, cheese and seafood. The evening's optional sessions include a sunset shoot takes place from 7:15 pm with sunset at 7:44 pm. Nighttime options include stars and Milky Way photography, aurora where possible and light painting. If cloudy or rainy, Luke will provide an indoor night-sky photography workshop.
Phot Credit: Remarkable Rocks By Elliot Grafton
Day 4: Cape du Couedic Cottages to Hanson Bay and Adelaide
Approximately 3 hours of photography and walking | Distance: up to 4km
The day begins early with a final optional 6 am sunrise photoshoot. Sunrise is at 6:26 am.
After breakfast and pack-up, we drive to a small, secluded bay that sits along the south coast of Kangaroo Island just west of the famous Kelly Hill Conservation Park. It is accessible via West River Road, off South Coast Road. West River Road is an unsealed road, but like many places the harder it is to get to the more beautiful it is. The views east are expansive and stunning. This last morning is a final chance to witness the incredible combination of landscape, colour and light that is Kangaroo Island.
The morning's walk travels through coastal heathland and low lying forest, followed by a 2km walk inland to a large lagoon system that holds water permanently with abundant opportunities for viewing waterbird species. 
Guests are collected for the return bus and ferry journey back to Adelaide.  A scheduled stop at a local distiller provides the opportunity for guests to freshen up, share a celebratory drink and have the opportunity to purchase local produce prior to their departure.  
Cape du Couedic Lighthouse Keeper's Cottages
Three heritage listed cottages have been sensitively restored, featuring new bathrooms and furnishings.  Dating back to 1907, each cottage is made from locally sourced hand-carved limestone.  The twin-share rooms are a welcome retreat, atop the headland, and appointed with the work of Kangaroo Island artisans.
At this location, we have
The Commons
- a communal space for unwinding and dining around the shared table.  This open pavilion is the heart of tonight's Village Square locale, where your guides and host busy themselves preparing a barbeque banquet.  Later, retire to your cosy Cape du Couedic lighthouse keeper's cottage.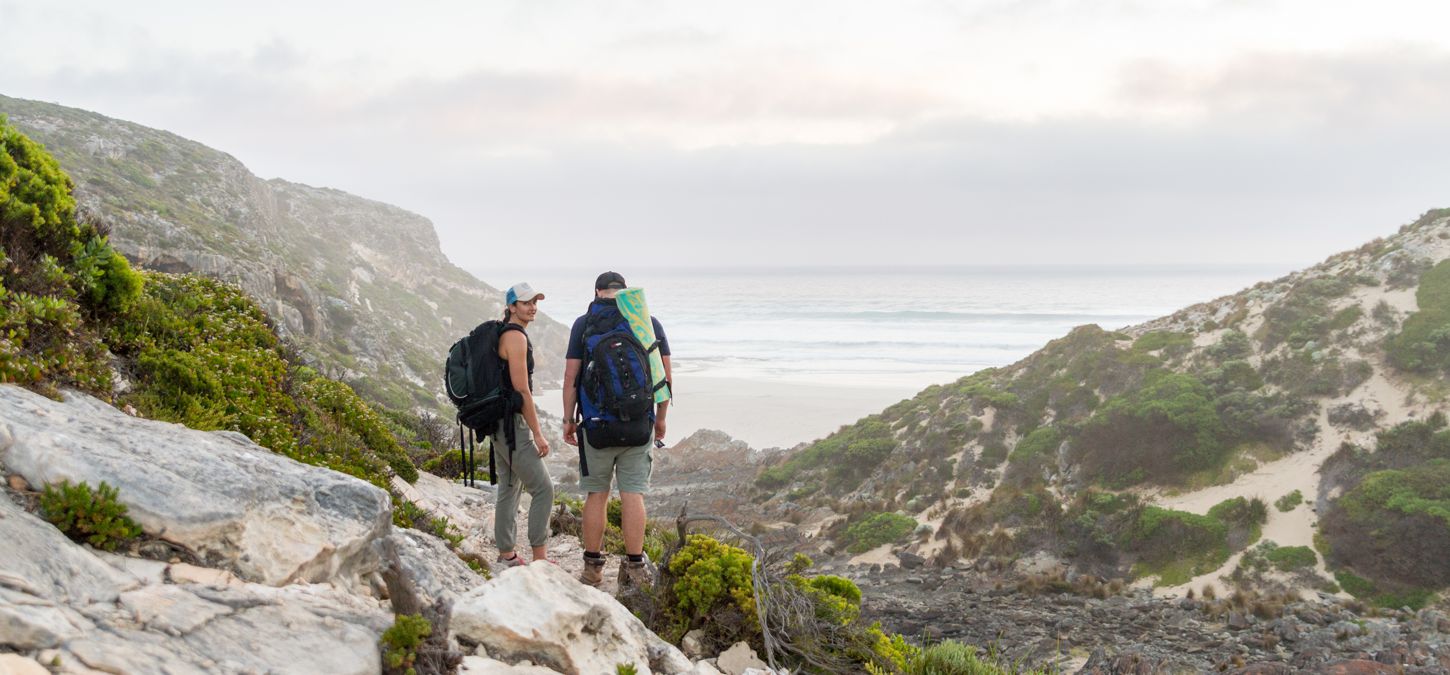 Kangaroo Island Photography Walk
Price per person for departures (inc. GST) (Non-commissionable)
Saturday-Tuesday, October 22-25, 2022 | Price $3,095 per person
Each trip requires a minimum of 7 guests (Twin Share). The maximum is 14.
Direct bookings only:
Single supplement
All accommodation is twin share.  Single travellers may be required to share a twin room with another walker of the same gender if departure fills to capacity.  To guarantee a single room for the duration of the walk a supplementary price of 75% of the full fee will apply.  This must be requested at the time of booking.
Special Interest Walks - Terms and Conditions 
These are in addition to our standard booking terms and conditions.
All prices are quoted per person in $AUD including GST
A deposit of $500 per person and the Guest Information Form are due within five days of booking
The final payment is due 90 days before departure. For reservations made three months or less from the departure date, full payment, the Indemnity Form and Health Declaration are due at the time of booking.
Cancellations

more than 90 days from the scheduled departure date, a fee of $350 per person will be charged with the balance of payment refunded;
between 90 and 60 days prior to departure, you will be charged 50% of the full trip cost with the balance refunded; or
within 60 days of departure, no refund is available. Bookings are transferable.

Travel and pre- and post-trip accommodation expenses are not included.

This walk cannot be booked in conjunction with any other offers and discounts.
Price Includes
Return ftransfers from Adelaide walker base to Kangaroo Island 
3 nights accommodation, all linen and towels
3 breakfasts, 4 lunches, 3 dinners
Daily morning and afternoon tea
Non-alcoholic drinks and a selection of house wines (oh... and we may have a secret stash of Kangaroo Island Gin!)
Use of daypack, water proof jacket, poles, ankle gaiters and water bottles
Daily guided walks, with two qualified guides for the duration of the walk 
Trip host at each night's accommodation 
All entrance & national park fees
One specialist birding guide
Need help deciding? Talk to an expert
We're here to help 9am – 5pm Monday to Friday, otherwise, email us anytime and we'll be in touch.