The Shipwreck Coast Surf Trip
Available for groups by request | Price $2,295 pp 
 Maximum 10 | Departs: Monday or Thursday
Our Shipwreck Coast Surf Trip offers a flexible itinerary, informed by local knowledge, allowing your group to make the most of a 4-day surfing adventure.
We pick up your group in Melbourne and drive you to our Twelve Apostles Lodge. The lodge is located in Johanna, central to the best breaks. Each day, we take you to find the best surf as well as provide delicious three-course meals, local wines and beers for fireside chats. The trip finishes with a session at Urban Surf before an airport or Melbourne drop-off.
This trip is available anytime upon request for groups of independent surfers who'd like to surf and have everything else taken care of. You bring your friends, wetsuits, boards and insurance. We take you to and from the local beaches and make sure you have a place to recover that's comfortable, dry and warm. We even take care of your wetsuits; they spend each night hanging in a dry room with a gas heater.
And if you'd like more, we can arrange expert video and coaching. 
 Direct bookings only.  For all enquiries and bookings please contact Australian Walking Company on (03) 6392 2211 or email bookings@auswalkingco.com.au.  
When is the best time to go?
Summer: off-shore northerly winds*, groomed sandbanks, an average swell height of 7-8ft**  - 2 is usually the minimum and the water is warmer
Autumn: with less crowds, warm waters, mild winds and an average swell height of 7-8ft** it's an ideal time for surfing.
Winter: there are even fewer people, the swells can be big with an average swell height of 9ft** although the atmosphere is unpredictable.
Spring: the waters are cold and the winds are on-shore. We suggest walking.
*Please note, the weather and swell are not under our control!
** Average swell height source
Introducing Ben Oborne
Ben is our Twelve Apostles Lodge Manager, loves surf and surfing. He grew up in The Otways and spent the majority of his youth exploring the coastline with his brother in search of waves, on either bodyboards or surfboards (depending on what his parents could afford at the time).  
He moved to the Gold Coast in 2002 and spent the following decade working within the Surf Industry in a variety of roles. He held an ISA Surf Coaching Certification for a number of years & worked as an Event Management Contractor for Surfing Queensland on domestic, State & National Events. He formed the Australian Bodyboarding Association in 2014 and has been a Committee Member, Coach & State Delegate with both the Gold Coast Bodyboard Club and Bodyboarding QLD.
Since returning from abroad to his home in Victoria, he has fueled his passion for cold water surfing and the lack of crowds. He believes the Shipwreck Coast is a magnet for swell almost all year round with protection from most winds on any given day. The variety of wave options that include Beachies, Point Breaks, Reefs & a few sketchy river mouths offers solace in surfing that money can't buy.
Ben is happy to give you the best advice on where to find the best waves. He'll also drive you there, make sure you are well-fed and share a wine or a local ale and a story around the fire.
The waves
"I have seldom seen a more fearful section of coastline." - Explorer Matthew Flinders
The Shipwreck Coast is found along the south coast of Victoria and stretches from Cape Otway to Port Fairy, a distance of approximately 130 km. It is fabled home is home of limestone formations called The Twelve Apostles and the 100km Great Ocean Walk.
While it has not been friendly to many boats with approximately 638 known shipwrecks, although only around 240 of them have been discovered, it is welcoming to surfers from around the world.
The waves roll in from the great Southern Ocean to find land along the coast. Waves can be found that break both left and right. Dangerous rips are a hazard of surfing here and only experienced surfers should venture into these waters.
A flexible Itinerary
Each day, we'll look at the weather to find the best combination of swell, off-shore winds and welcoming surfers. You can expect a morning and afternoon surf. We can return to the lodge for lunch or bring it with us.
The Twelve Apostles Lodge is ideally located in the middle of the shipwreck coast. Beaches with waves are 10 minutes to an hour's drive from the lodge - Johanna Beach is less than 10 minutes away. Boneyards is an hour away and there are many breaks in between.
We'll give you the best information so you can make an informed choice.
Surf Gear
Guests are required to bring all of their own surf gear including wetsuits and boards suitable for cold water.
Day 1: Breaks near Apollo Bay
It doesn't take long for the city sounds to fade on our four-day escape. In no time, you'll find yourself in a wetsuit, board waxed and ready to hit the waves. Our first option is one of the breaks near Apollo Bay on the eastern edge of The Shipwreck Coast. Over the following days, we'll explore breaks to the south and west, guided by the weather and swell. 
Breaks include
Skene's Creek
Boneyards
Maringo
After a picnic lunch and an afternoon in the surf, we drive to Johanna and the comfort of our Twelve Apostles Lodge.
Day 2: Johanna's local breaks
Hopefully, we won't need to travel too far. Located within a six and half km stretch and within 15 minutes of the lodge are some of Victoria's best breaks
Johanna Beach
Castle Cove
Milanesia
It's easy to have a morning surf, head back for lunch and have another surf in the afternoon. At then end of the day, relax with a few local ales and wines around the fire before a delicious three course dinner. Here's an example of what the day might look like:
6:00AM: Breakfast
7:00AM: Depart Lodge
7:30-8:00AM: Arrive at Surf Spot // GO SURFING!!
10:30AM: Morning Tea & Reassess Conditions
11:00AM: Either second session at current surf spot or depart for a second location
1:00PM: Lunch
1:30PM: Second Surf
3:30PM: Begin Journey back to Lodge 
4:30PM: Arrive back at Lodge for FootSpas, Canapes & Beers (It could be a shorter journey if you have surfed nearby).
6:30PM: Dinner Service
8:00PM: Post Surf Briefing & Highlights Slideshow Reel/Surf Movie
Day 3: Heading west
We know the best places to access on this wild and remote coast. There are places well worth avoiding too. Amongst the offerings are these two gems.
Gibson's Steps
Clifton Beach
We can either return to the lodge for lunch or for the dedicated, we can take a picnic. You can spend the afternoon in the surf or take an afternoon to relax, read or even nap. Our Twelve Apostles Lodge is yours. You don't have to go anywhere.
Day 4: Morning surf followed by urban surf
A morning surf at another of the nearby breaks we pack our bags, take our lunch and begin the drive back to Melbourne in time for an afternoon session at Urban Surf. It's a brilliant way finish your four-day surf trip with guaranteed consistent waves.
We'll book an hour-long advanced session at Urban Surf at 4pm*.
Or, for a group of ten, we can book out one side of urban surf for your group. See details of The Point experience here. Hire one side of the point to surf endless perfect righthanders, with wave types to suit surfers of all ages and ability.
Finally, we take you to the airport or back to our central Melbourne drop-off point to end your trip. 
*Session times at Urban Surf are subject to change without notice and depend upon availability. Book early!
Exclusive Accommodation
True shelter, something that gives protection and refuge, simple and sustainable, clean and comfortable.
Our groups have exclusive use of our Twelve Apostles Lodge your forest hugged home just three hours from Melbourne.
The Twelve Apostles Lodge 
At the end of a day out on track, the Twelve Apostles Lodge is a forest-hugged refuge three hours from Melbourne. This is where the foot spa awaits, rainforest showers, kitchen garden, dining room stocked with local wines, and your king bedroom with spacious en-suite.
The architecturally-designed lodge has been crafted with environmental sensitivity in mind. This translates to passive solar design, hydronic heating, low consumption electric and water fittings, on-site wastewater treatment and composting, plus a self-sufficient water supply. And there's a reason this eco-development is award-winning, delivering modern comforts with equal rigour. Expect Myrtle & Moss toiletries, hair dryers, library, mobile coverage (Telstra only).
What's more, the lodge is exclusively yours. The only way to stay is to join one of our walks. That means the moment you arrive, consider it home. Unpack your bags and get comfy. Five generous bedrooms can be converted to twin share or two single rooms depending on group requirements - all enjoying access to private en-suite bathrooms.
The dining room has a lounge area well-suited for canapes when the fire pit isn't crackling with friend-huddling flames. After a glass of regional red, move to the long table for your nightly two-course regional menu.
Onsite you'll also find 24-hour tea and coffee facilities, gear drying room, daily newspapers and a lodge library well stocked with magazines, reference and fictional books or ask about the lodge property walks. You're not alone if you don't stray far from the foot spa and dining table though!
*Alcoholic beverages are available in the lounge. These are included in your package. We stock a small selection of house and premium wines and locally brewed beers by the bottle. As an eco-accredited operator, we support local wine and beer
*One complimentary clothes wash (including soap) is included in your walk package, the Lodge Manager will explain how this is organised at your briefing on day one. Additional loads are charged to your tab to discourage excessive usage/environmental impact.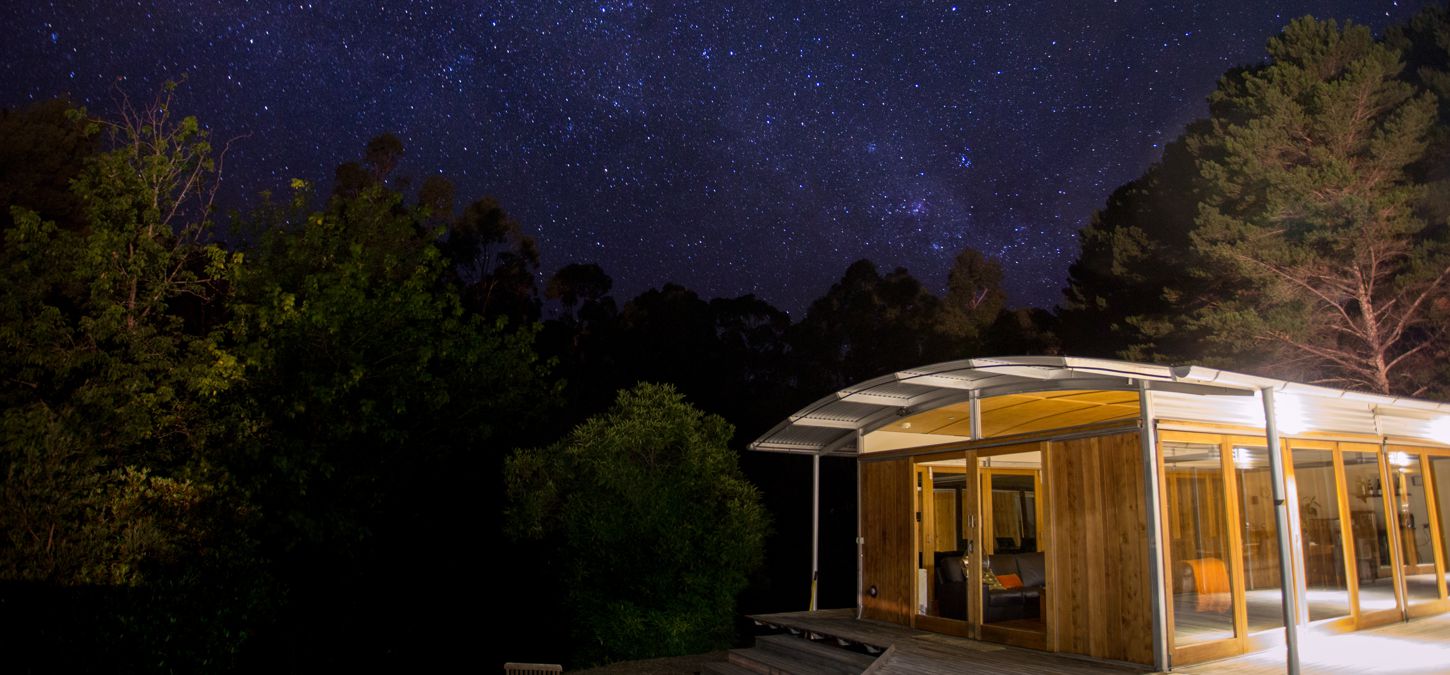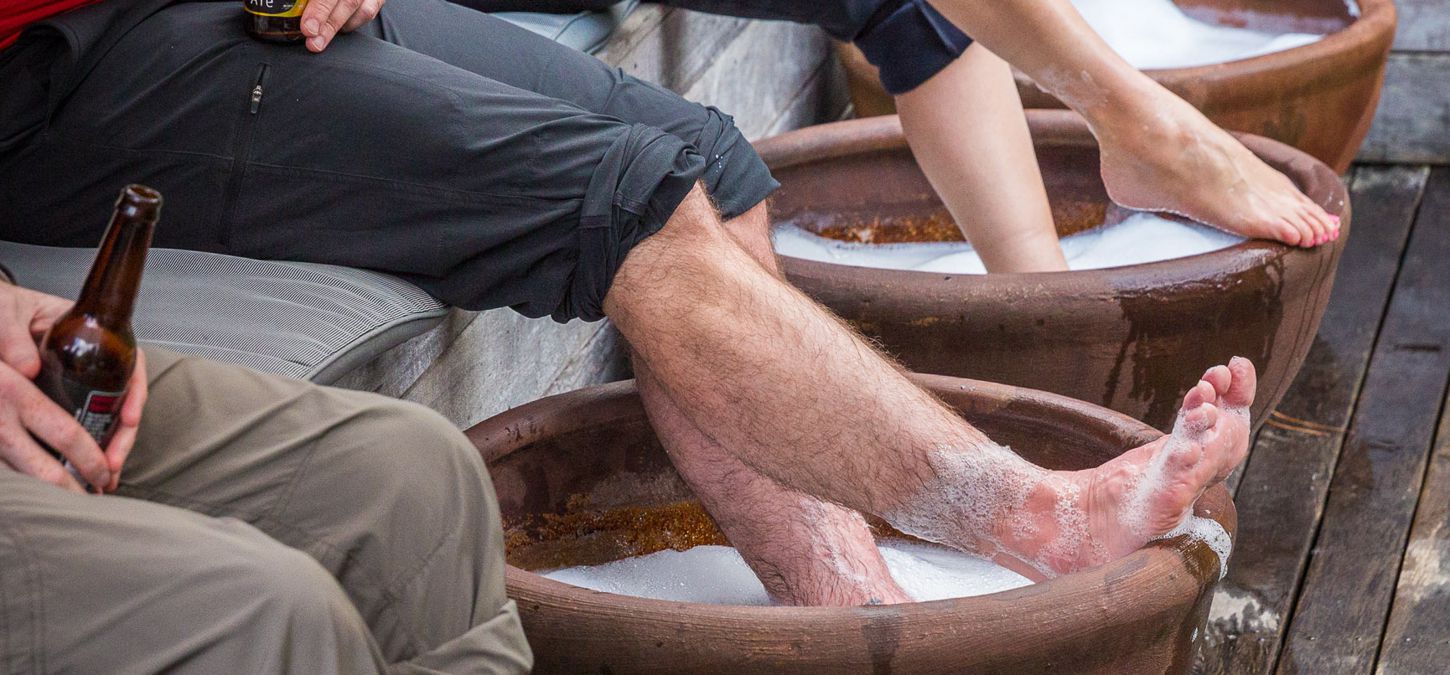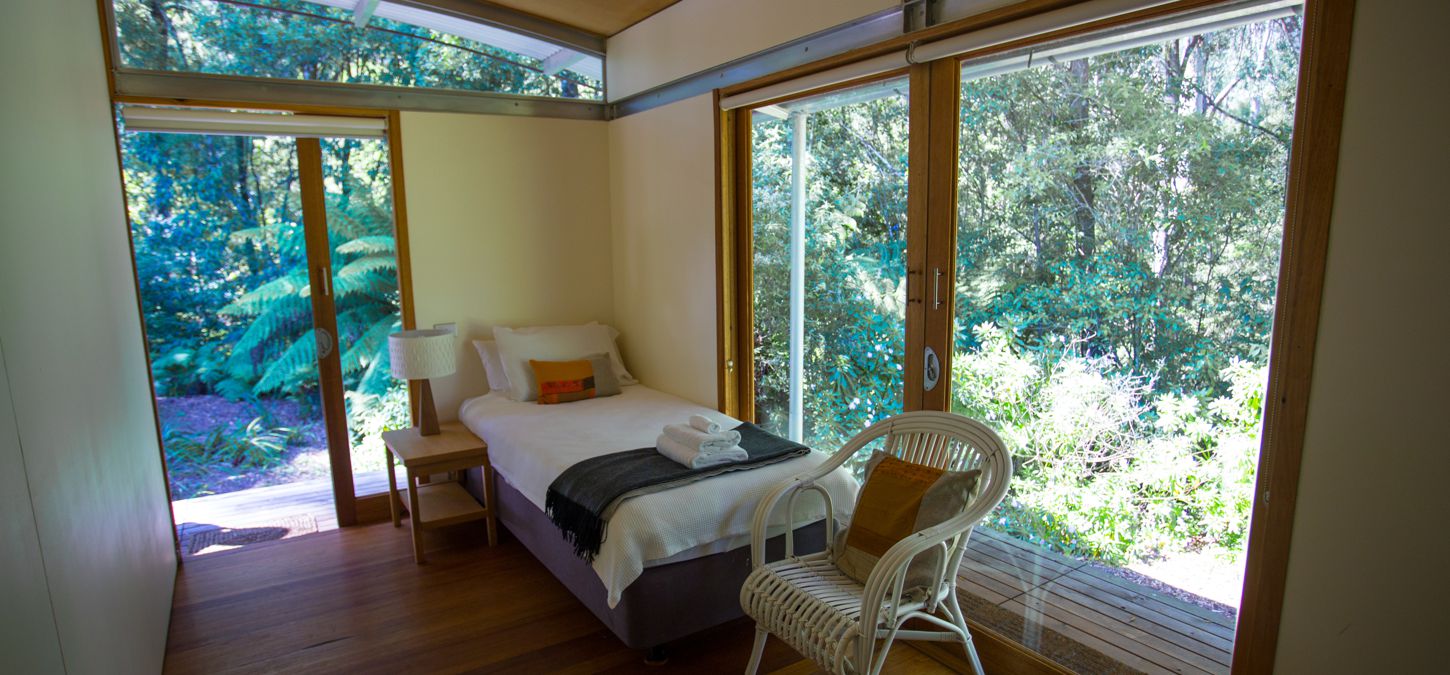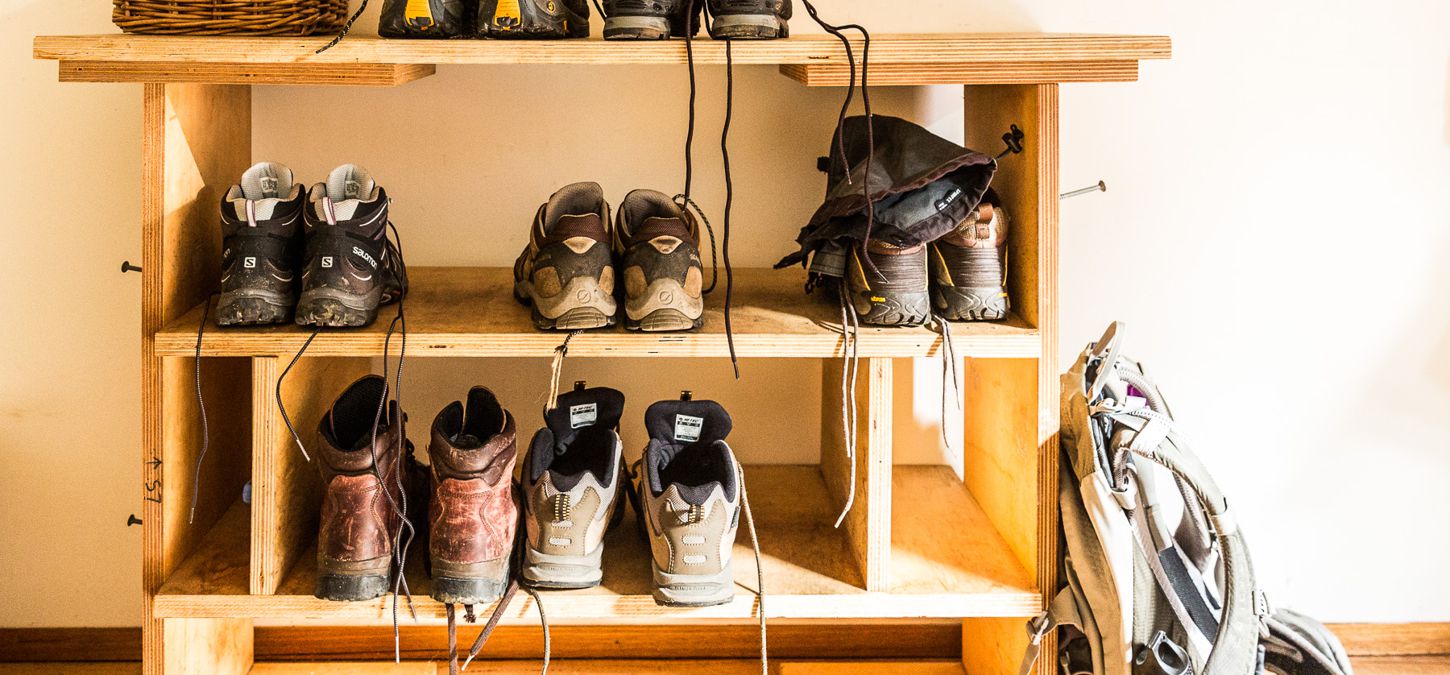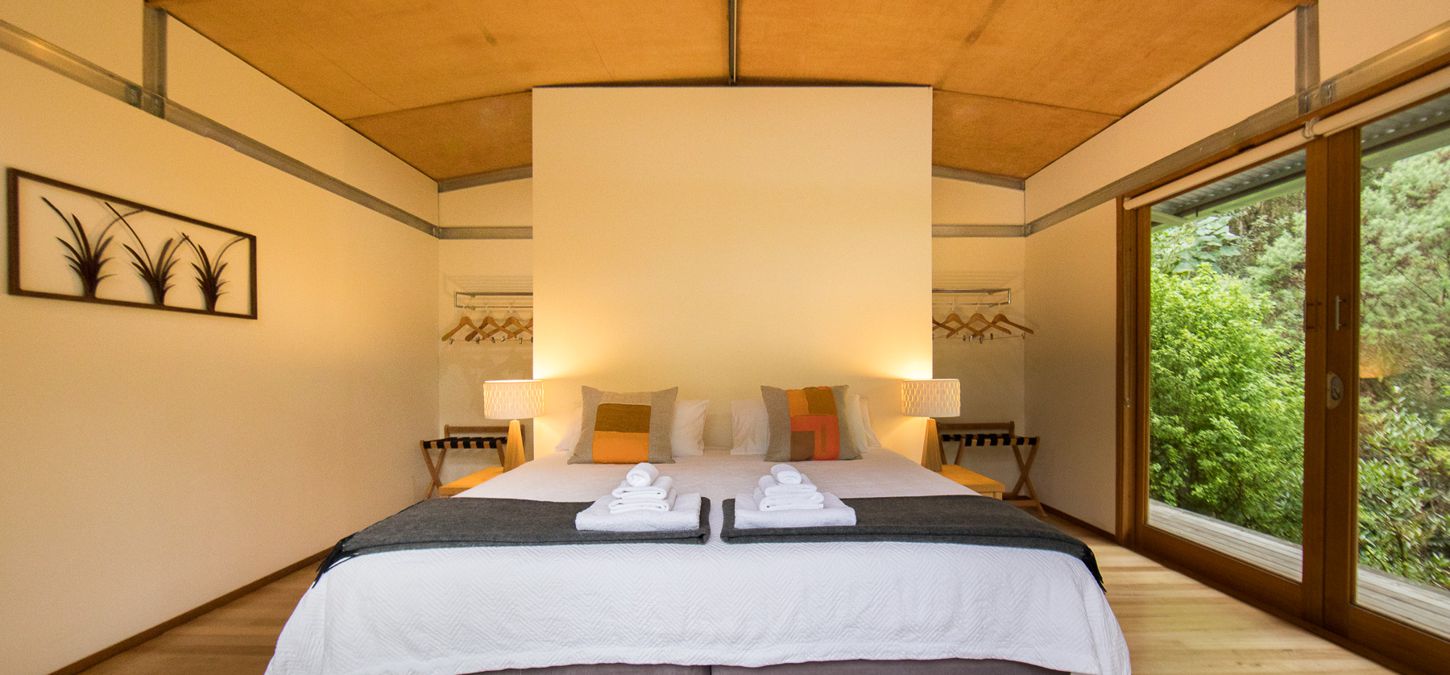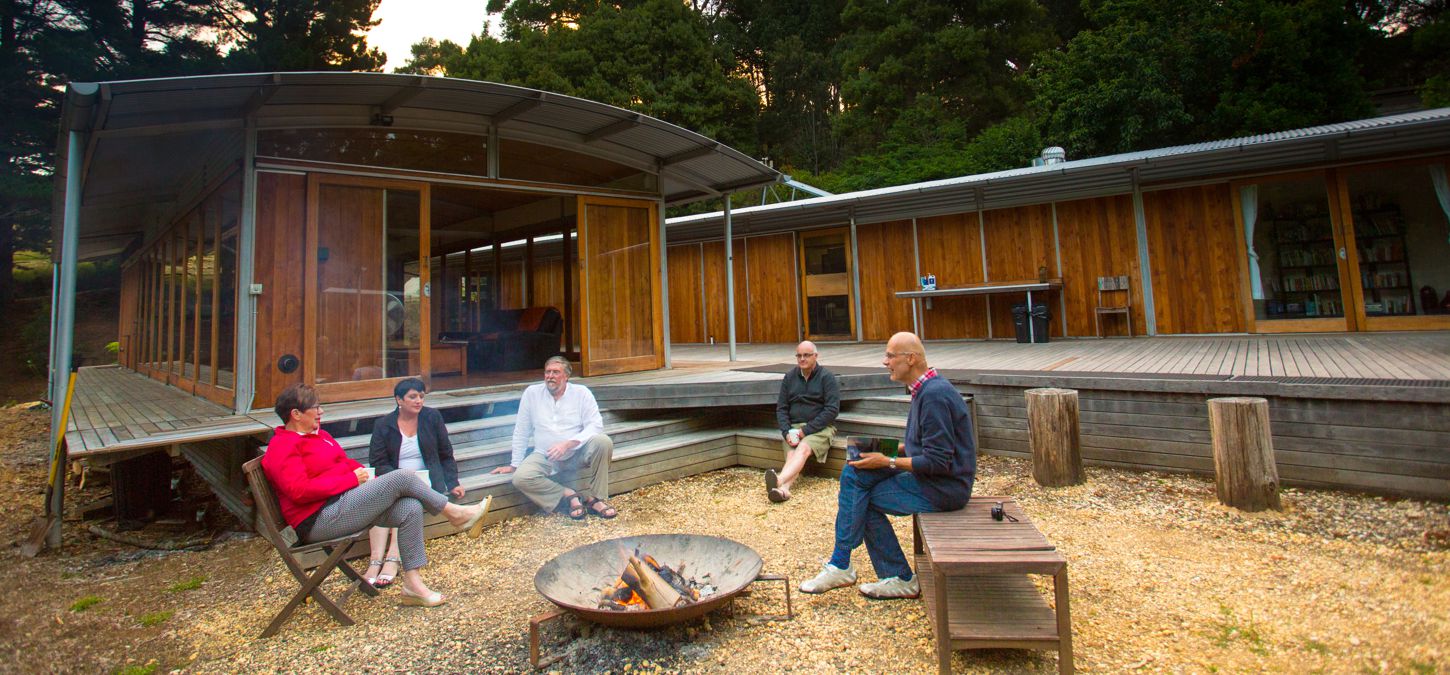 Extras
Video
We recommend Michael Jennings. With over 10 years experience, Michael is a Videographer, Photographer, Editor & licensed Drone operator. After receiving a video camera at a young age, Michael has been passionate about content creation and turning his passion into a career. Michael will bring passion to your project, taking pride in his service to produce innovative results & deliver creative, strategic & compelling content. Expected cost $1,000 per day.
Surf Coach
Use the video from each day to learn more about how to improve! Stace Galbraith provides a positive & uplifting approach to surf coaching.
He offers:
• technical and strategic advice at world tour, qualifying tour & pro junior events
• personalised 1-on-1 coaching for beginner, intermediate & professional surfers
• video feedback and written reports
• interactive group sessions with practice heats against friends & colleagues or another competitor
The Shipwreck Coast Surf Trip (4 days) 
Price per person for departures (inc. GST) (Non-commissionable)
| | |
| --- | --- |
| August 23-26, 2021  | $2,295 |
| January 11-14, 2022 | $2,595 |
Minimum guests 8
Maximum guests 10
Departure:  Meet for departure at 7:45am sharp at the Travelodge Southbank Restaurant, 9 Riverside Quay, Southbank VIC 3000 (central Melbourne location for all departures). 
Return Transfer: 5:30 - 6pm. Arrive Melbourne (Travelodge Southbank). We can drop you at Tullamarine Airport between 5 and 5:30 (for domestic flights from 6.30pm/international flights after 7:30pm).
Direct bookings only:
Special Interest Walks - Terms and Conditions 
All prices are quoted per person in $AUD including GST
A deposit of $500 per person and the Guest Information Form are due within five days of booking
Minimum numbers are required three months prior to departure, on October 12, 2020.
The final payment is due three months before departure. For reservations made three months or less from departure date, full payment is due at time of booking.
Cancellations after October 12, 2020 are not refundable. Bookings are transferable.
Prices are subject to change without notice
Travel and pre and post-trip accommodation expenses are not included.

This walk cannot be booked in conjunction with any other offers or discounts.
Please view our traditional booking terms and conditions 
After the minimum number of bookings has been achieved, the trip is guaranteed to depart.  If for any reason, the trip cannot go ahead due to restrictions placed upon travel due to Covid-19,  guests will be permitted to reschedule their walk to the new date provided for the Matilda Wand departure with no additional fee or rebook a traditional Twelve Apostles Lodge Walk within 24 months. Guests can transfer to a traditional Twelve Apostles Lodge Walk itinerary and have the difference in price refunded. Cancellations for other reasons will incur our standard cancellation fees.
Price Includes
Return transfers between Melbourne and the walk base
Optional airport drop off day 4
3-night lodge stay, all linen and towels
3 breakfast, 4 lunch, 3 dinners
Daily morning and afternoon tea
Vehicle support daily
All entrance & national park fees

hour-long advanced session at Urban Surf
Single supplement
We do not charge for a single supplement as all rooms can be divided into two with dual access to the bathroom.
Exclusion of Liability
Guests acknowledge that surfing is potentially a dangerous activity and guests are undertaking such activity at their own risk. Guests acknowledge and agree that they will undertake any surfing freely, voluntarily and absolutely at their own risk and with a full appreciation of the nature and extent of all risks involved. Guests acknowledge that the Company is supplying them with support services separate to surfing for the purposes of applicable laws.
Guests agree to the fullest extent permitted by law waive all of their legal rights of action against and fully release the Company and its officers, directors, employees, servants, agents or consultants from all liability arising from or connected with their death or personal injury howsoever arising out of or in relation to the participation by them in a surf or walk including without limitation, liability for a negligent or tortuous act or omission, breach of duty, breach of contract or breach of statutory duty on the part of the Company, its officers, directors, employees, servants,  agents or consultants.  This waiver shall bind all guests and their legal personal representatives.
Travel Insurance 
When selecting a travel insurance product, please ensure that it provides cover against, at a minimum, personal accidents or injury, medical expenses, Force Majeure Events, emergency repatriation and personal liability, cancellation for any reason including bereavement, delayed flights, lost luggage and personal effects.
We strongly recommend that all guests obtain suitable travel insurance once your deposit payment is made.
Need help deciding? Talk to an expert
We're here to help 9am – 5pm Monday to Friday, otherwise, email us anytime and we'll be in touch.