Wild Wellness
With Alice Hansen and Leah Scott
July 15-18, 2021 | 

Price $4,295 pp 
Spend four alcohol-free, life-shifting days on the Great Ocean Track deep-diving into nature, writing, walking and Wim Hof plunging.
We've hand-picked Wim Hof's best known Australian instructor, Snowy Mountains-based Leah Scott, to guide us through the power of breathwork and cold-water submersion. Prepare to value your story, through journal writing with author Alice Hansen. Take some time out for fireside chats with Dr Chris Davis, designer of the highly successful Clean Slate Clinic. This winter, you're invited to connect to the wildness of nature and join Leah, Alice and Chris for a wild trek and cold water plunge.
 Direct bookings only.  For all enquiries and bookings please contact Tasmanian Walking Company on (03) 6392 2211 or email bookings@taswalkingco.com.au. Available for groups by request. 
Is AF Wild Wellness for me?
What is the Wild Wellness Method?
This blueprint for wellness is an Australian first; taking years of science-backed knowledge and condensing it into days. It's a simple, wholesome wellness script. There is no better place on the planet to experience Wild Wellness than Tasmania.
Australia's Productivity Commission Report estimates mental illness is costing Australia $220 billion a year. Our burdened health system cannot cope. We believe there's another way ... a wilder way. No matter what your wellness goals might be, this method is about returning to you; listening in.
The method is based on three core pillars: connection, care and commitment. Think invigorating cold dips, silent walking beneath towering rainforest, nourishing Tassie fare and fireside journal writing. You'll discover a blueprint to lasting wellness featuring insights from Director of East Sydney Doctors, Dr. Chris Davis. We take the best of the traditional model and bring it into nature's office.
Is AF Wild Wellness for you?
Feeling the overwhelm of life's stress and hectic pace? Not living congruently with your true self, but too busy to notice? Lost touch with your identity and who you present to the world? Wild Wellness is about hopping off life's highway, examining limiting beliefs and tapping into what matters. Plus, we'll have fun in the process. This isn't a four-day fix but a lasting recalibration because we know life is waiting after. We're about tooling up for lifelong wellness.
Reclaim control and author your own life.
This retreat is for you if you feel:
your wellness is secondary to your to-do-list
life is happening to you at hurtling pace
limiting beliefs interrupt your flow
What is the Wim Hof Method?
It's a combination of breathing, cold therapy and commitment, offering a range of benefits. The power of the Wim Hof Method can help unlock a range of well-researched and documented health benefits including:
Rebalancing your immune system
Reducing inflammation
Improving focus, mood and cognitive function
Improving cardiovascular health
Balancing the body's stress response
Introducing Alice Hansen and Wild Wellness Method
Alice is a professional travel writer and author. As the founder of the Wild Wellness Method, she has cultivated relationships spanning 20+ years with experts across the wellness field. On her quest to seek answers for her own struggles, she has connected with medical experts, international thought leaders and tapped into decades of experience to formulate a proven blueprint. Writing is a key element and she'll guide you through a journaling process tailored to your wellness journey.
When she's not at the laptop, you'll find her on wild Tasmanian trails.
Introducing Leah Scott and Wild Things Cold Exposure
Leah Scott 
Leah is a certified Level 2 Wim Hof Method Instructor, breathwork specialist, extreme cold tolerance practitioner, mountain guide, motivational speaker and mother of two.
Having conquered her own battle of anxiety, stress, depression and sleeping problems, her mission is to help people improve their health and wellbeing by reconnecting them to nature, empowering them to do more than they think they can and offering tools to create peace, love and freedom within the mind. Her philosophy on cold exposure training is that it's best experienced in nature.
https://www.leahscott.net/about
We were all 'wild things' once upon a time. As humans we're born with powerful, innate abilities to survive and thrive in our environment. This enabled us to live, learn and love side-by-side with nature. However, over time, through our lifestyle and life choices, we've lost touch with these abilities. We've insulated ourselves. From nature. From those around us. From our inner wild selves.
Leah's mission is to change that.
The name Wild Things Anatomy combines two of Leah's passions; spending time in nature and understanding the science behind how reconnecting to nature can improve our health.
For Leah, the combination of breath, ice (cold exposure training) and nature, are the gateway to greater self-awareness, improved physical health and a more resilient mind. It's these three elements that form the foundation of her approach to teaching.
Introducing Dr. Chris Davis
Dr Chris is a Sydney-based GP and Director of East Sydney Doctors. Originally from the UK, he was a Clinical Lead in Substance Misuse and Alcohol and a partner in a large inner city London practice for many years before emigrating to Sydney in 2014. Chris continued his studies and among other things gained a Diploma in Substance Misuse. While still in the UK, he designed the highly successful Clean Slate Clinic. This is a GP-led alcohol management and home detox clinic that he has introduced here in Australia. He'll talk more on this and likely his miniature schnauzer Archie for hours!
Workshop elements: Journalling and contemplative walking
The power of hitting pen to paper. It's not new. Leonardo da Vinci's journals spanned some 5,000 pages. But the therapeutic wonders of reflective writing didn't emerge until the 1960s, when a New York psychologist devised what he coined the Intensive Journal Method. On this walk, we won't pen thousands of pages but we will invite self-discovery through the written word. Our Wild Wellness Journaling will cross the three foundational pillars of this method.
We combine journal writing with contemplative walking. In a noisy world it's rare to hear nature's silence. But in this Tasmanian stillness, it's possible to reconnect with you. Nature has a way of casting its healing spell. In Japan, it's known as forest bathing (shinrin-yoku), and literally translates to bathing in the forest atmosphere. It doesn't require anything of you but to tap into the senses and soak it in - the crunch of leaves underfoot, the sound of Southern Ocean waves, the eucalypt scents …
This is your walk, your words and your Tasmanian journey.
Workshop elements: Breath 
Our systems can be influenced, trained, strengthened and understood thanks to conscious breathing. We cultivate peace, presence and awareness with a daily breath practice. Breathwork is a powerful way to become acquainted with your Nervous System, your internal workings and to take control.
Lastly, our breath is a gateway to an altered state of consciousness that can enable you to release emotion and trauma from the nervous system, connect to the higher self, open the third eye and release DMT (N-dimethyltryptamine), which can lead to lasting emotional and spiritual healing.
Workshop elements: Nature
As humans we seem to know instinctively that spending time in nature is a good thing. Which makes sense, given that, nature, our environment, is what led to us evolving and adapting as a species. The aim with nature therapy is to just reconnect with the Earth. This can be done in a variety of ways including walking (barefoot is optional!), swimming in a river or ocean, hiking in the bush or even getting a little muddy!
Studies have shown that these activities can have important benefits for our health including the prevention and treatment of chronic inflammatory and autoimmune diseases, improving sleep, increases heart rate variability and even helping to positively change the composition of our microbiome - the genetic material that lives on and inside the human body.
Being in Mother Nature brings an element of play to any activity and studies have shown that being in nature's presence in this way, greatly enhances our mental health.
Twelve Apostles Lodge Walking Expedition (4 Days)
Twelve Apostles Lodge Walk is an easy to moderate four-day walk with lightweight daypacks along the Great Ocean Walk, culminating at the iconic Twelve Apostles and returning each evening to our private eco-lodge.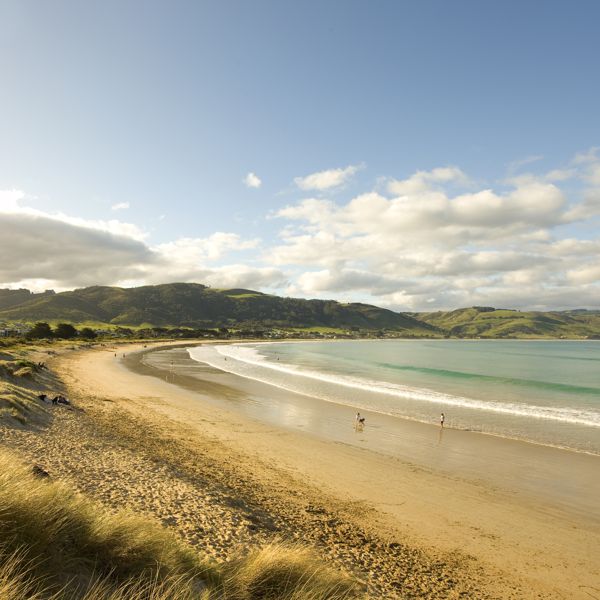 Day 1: Apollo Bay to Elliot Ridge
Approximately 10km and 3 hours walking
Time to lace up and step out on track for day one. This is not before a welcome briefing over morning tea and a plunge into the cold waters of Apollo Bay with Leah. There is time for Leah's first session that will invigorate and raise your adrenalin levels for your walk.
The trail begins by winding its way out of Marengo and Apollo Bay, home to a colony of Australian fur seals. The sandy foreshore, rock platforms and boardwalks transition to countryside and farmland. Blowholes are left behind as the trail climbs into the higher forests and the awe-inspiring Mountain Ash trees of the Great Otway National Park. The trail visits Shelley Beach and the Elliot River mouth before again gaining altitude as it climbs to Elliot Ridge. At the walk awaits your cool water and lemonade greeting, a constant across all four days.
The lodge is your comfort at the end of each day. After a foot bath and shower, the evenings are devoted to a three course dinner, journalling with Alice and fireside chats with Dr. Chris.
Day 2: Crayfish Bay to Aire River 
Approximately 13 km and 4.5 hours walking
After a relaxing breakfast at the lodge, we make our way to the still cool waters of Crayfish Bay. This morning's immersion with Leah will enable you to deepen your learning and practice your breathe control.
After drying off and changing into our walking gear we head to the Cape Otway's Lighthouse, perched high above hostile seas. It was built in 1848 and has witnessed multiple shipwrecks along the windswept coast.
Sand dunes, cliffs and coastal heath frame the trail as it heads towards tranquil Aire River. Tides dictate whether the inland route or the wild and challenging Station Beach is preferred. Aire River's estuary provides excellent bird viewing. We return to the lodge for a foot bath, dinner and relaxation.
Our evening is again devoted to journalling with Alice and fireside chats with Dr. Chris.
Day 3: Moonlight Head to Princetown
Approximately 6.5 hours walking
Today is about shipwrecks, sandy pathways, exposed heathland and maybe even first glimpse of the Apostles. What better place to commence the walk and get your bearings than The Gables Lookout, one of Australia's highest cliff-top vistas. After the challenging undulations of yesterday, day three is pleasantly less furrowed.
More than 300 ships have come to grief on this stretch of coastline. Your first stop is aptly named Wreck Beach. It's a suitable reminder of those early days and treacherous ocean voyages. If conditions allow, you'll drop down to Wreck Beach and hear tales of pillaging and misfortune including a ship which travelled from China whose cargo of tea coloured the ocean. Depending on the tide, an alternate route leads through to Devils Kitchen, home to arguably Australia's best lavatory vista!
Following lunch, notice how the geology begins to change from sandstone to limestone. Thick Eucalypt forest gives way to sections of moonscape, indicators of what's in store. Keep an eye out for native rosemary, cushion plants and wildflowers in season.
Your first glimpse of the Gellibrand River marks the entrance to Port Campbell National Park. This freshwater river near the sleepy hamlet of Princetown is an easy downhill stroll.
After some 12.5 kilometres, reward yourself with a cooling river dip. today's walk finishes with our cold water session.
Our evening is again devoted to journalling with Alice and fireside chats with Dr. Chris.
Day 4: Princetown to the Twelve Apostles
Approximately 3 hours walking
Today invites new heights. Not only will you conquer the final steps of your Great Ocean Walk but top this with a 15-minute helicopter flight.
Our day starts with our morning swim in the Gellibrand River. Your experience of cold water and breathing is already dramatically different to our first plunge into Apollo Bay.  We depart from the quiet shores of Princetown by the Gellibrand River, beginning with an easy 30 minute wander to reveal your first full view of the Apostles. 
There's a sense of elation today as you draw nearer to the mighty limestone Apostles. No, there's not 12, which may come as no surprise. But amongst the proudly standing 7, lie 5 recently discovered apostles beneath the ocean's surface. Weathered but not beaten, those in view lose a couple of centimetres each year to the perilous swells and winds whipping up from the Southern Ocean.
Drawing closer, hear the romantic tale of Tom and Eva. Tom, a gallant local who swam more than an hour to rescue Eva from the Loch Ard, perhaps Victoria's best-known shipwreck. Of 63 on board, Eva was one of the lucky two to survive, whisked to a cave by Tom and 'administered' brandy to remain conscious.
The Apostles reveal gradually along this stretch, reappearing as the trail rises. There's a viewing platform exclusive to walkers on the final stretch before your arrival at the Visitor Centre. It's the official end to your walk and an appropriate locale to get cozy with the Apostles in a group snap.
If conditions permit, don't miss the opportunity to descend 80-plus steps to the beach below and the possibility of a final swim. This final perspective gives a sense of the Apostles brooding heights, one 73-metres tall, nudging the equivalent of a 20-storey building. It's here with sand under your boots, a sense of monumental achievement and wonder sets in.
Take to the skies to bid farewell with a 15-minute helicopter flight. Capturing the chiselled coastline from above gives scale not only to the Apostles but the trek you've completed. Follow this with a final lunch in the sleepy fishing town of Port Campbell before returning to Melbourne.
Exclusive Accommodation
True shelter, something that gives protection and refuge, simple and sustainable, clean and comfortable.
Our groups have exclusive use of our Twelve Apostles Lodge your forest hugged home just three hours from Melbourne.
The Twelve Apostles Lodge 
At the end of a day out on track, the Twelve Apostles Lodge is a forest-hugged refuge three hours from Melbourne. This is where the foot spa awaits, rainforest showers, kitchen garden, dining room stocked with local wines, and your king bedroom with spacious en-suite.
The architecturally-designed lodge has been crafted with environmental sensitivity in mind. This translates to passive solar design, hydronic heating, low consumption electric and water fittings, on-site wastewater treatment and composting, plus a self-sufficient water supply. And there's a reason this eco-development is award-winning, delivering modern comforts with equal rigour. Expect Myrtle & Moss toiletries, hair dryers, library, mobile coverage (Telstra only).
What's more, the lodge is exclusively yours. The only way to stay is to join one of our walks. That means the moment you arrive, consider it home. Unpack your bags and get comfy. Five generous bedrooms can be converted to twin share or two single rooms depending on group requirements - all enjoying access to private en-suite bathrooms.
The dining room has a lounge area well-suited for canapes when the fire pit isn't crackling with friend-huddling flames. After a glass of regional red, move to the long table for your nightly two-course regional menu.
Onsite you'll also find 24-hour tea and coffee facilities, gear drying room, daily newspapers and a lodge library well stocked with magazines, reference and fictional books or ask about the lodge property walks. You're not alone if you don't stray far from the foot spa and dining table though!
*Alcoholic beverages are available in the lounge. These are included in your package. We stock a small selection of house and premium wines and locally brewed beers by the bottle. As an eco-accredited operator, we support local wine and beer
*One complimentary clothes wash (including soap) is included in your walk package, the Lodge Manager will explain how this is organised at your briefing on day one. Additional loads are charged to your tab to discourage excessive usage/environmental impact.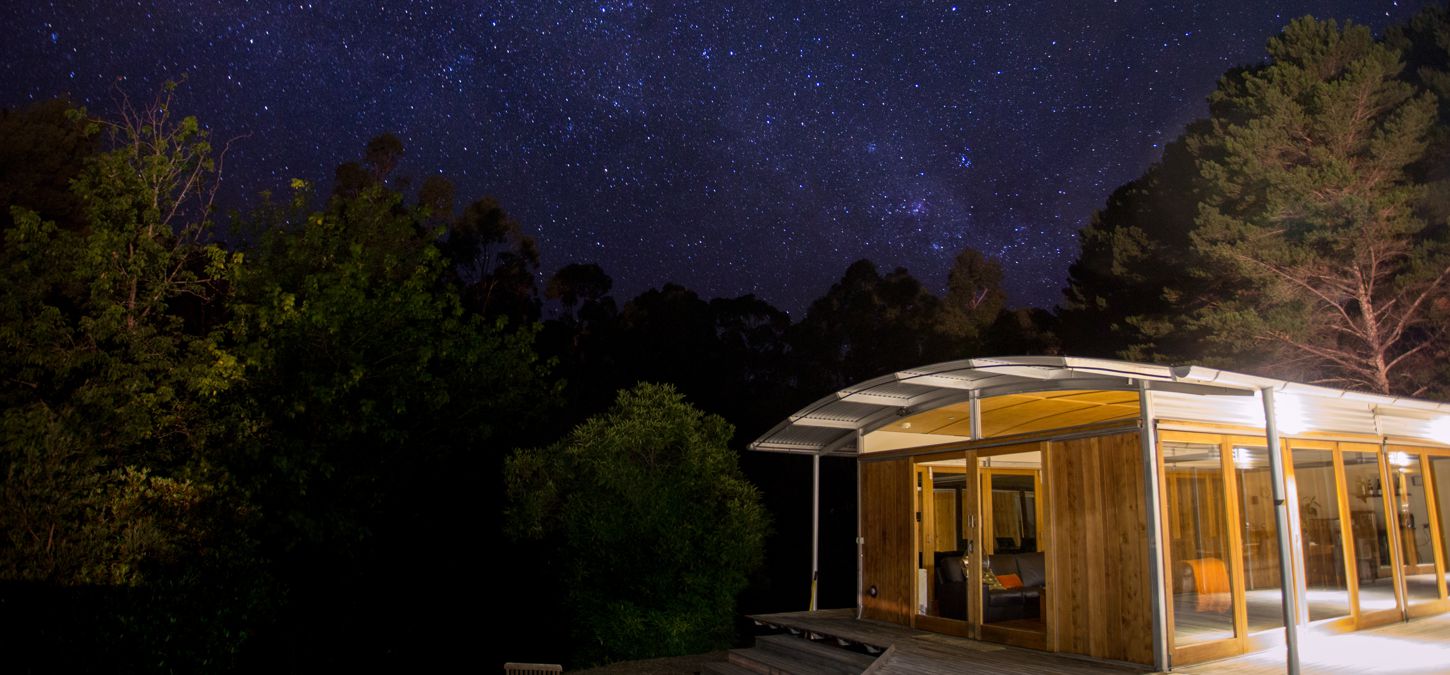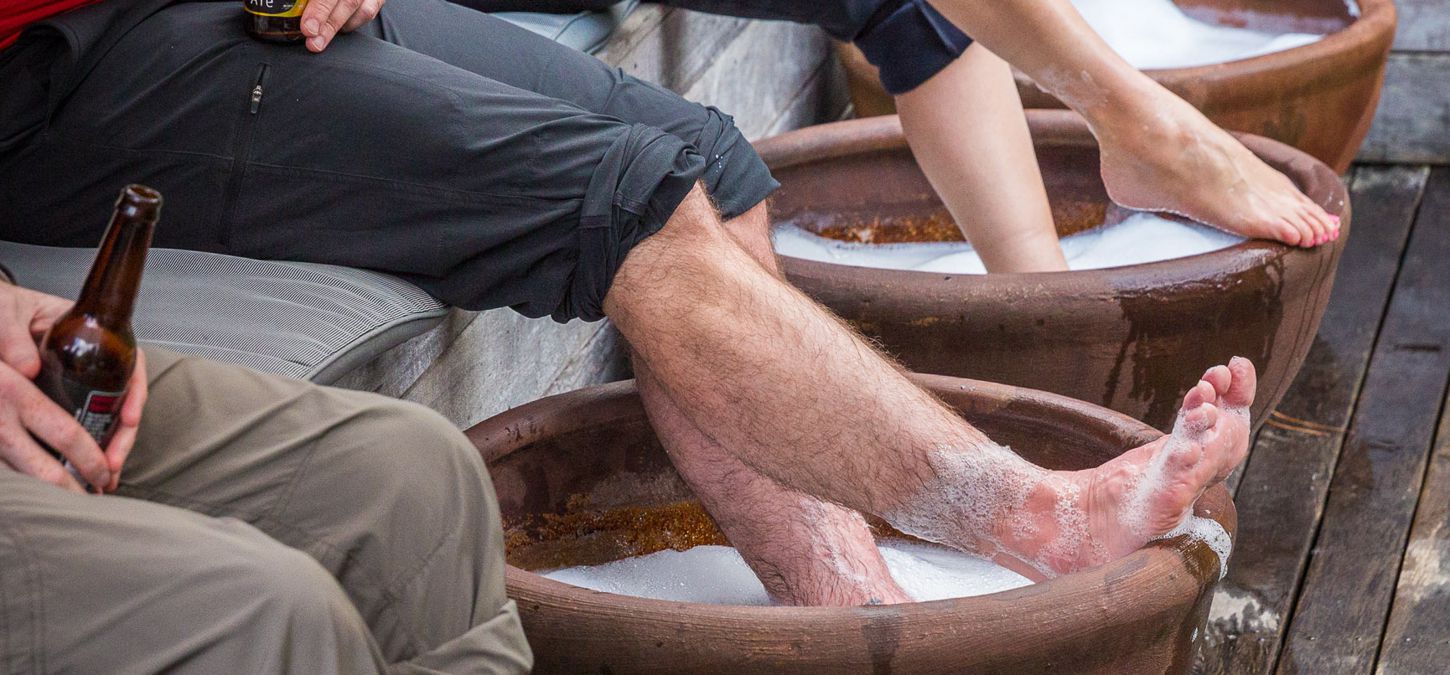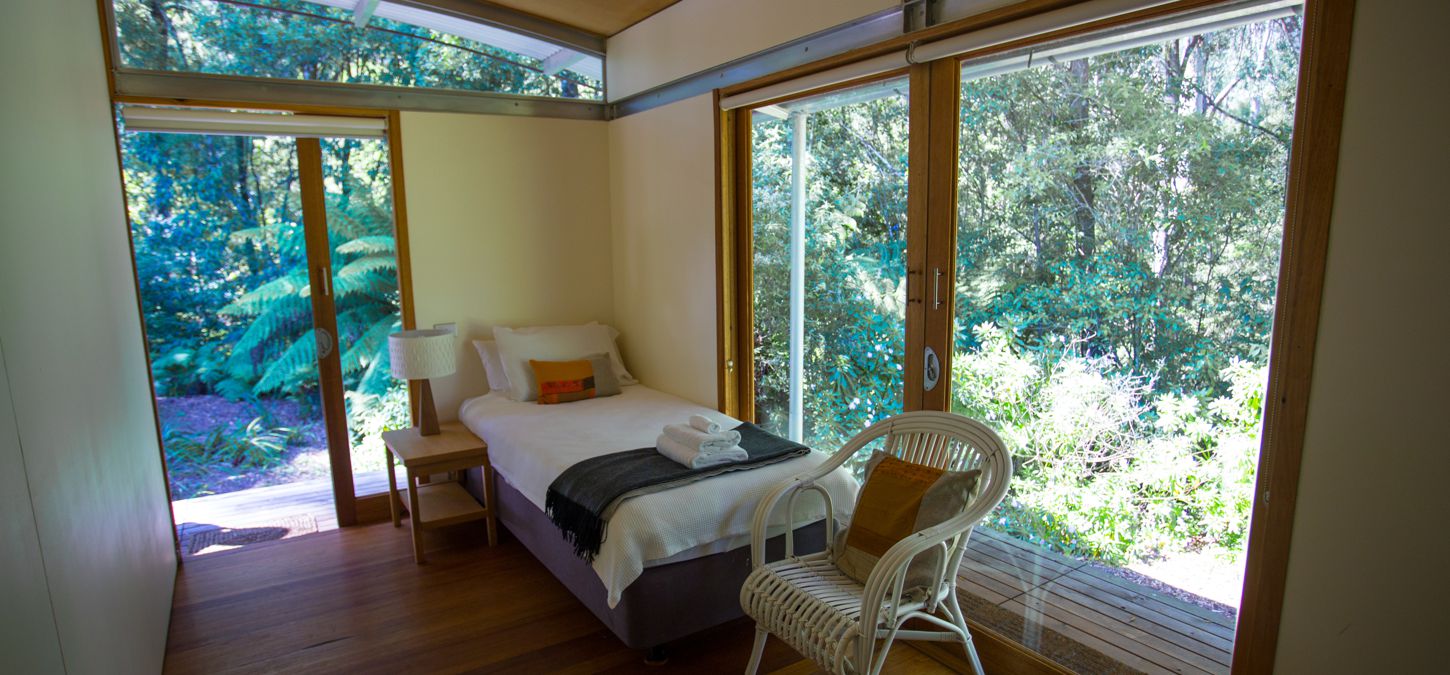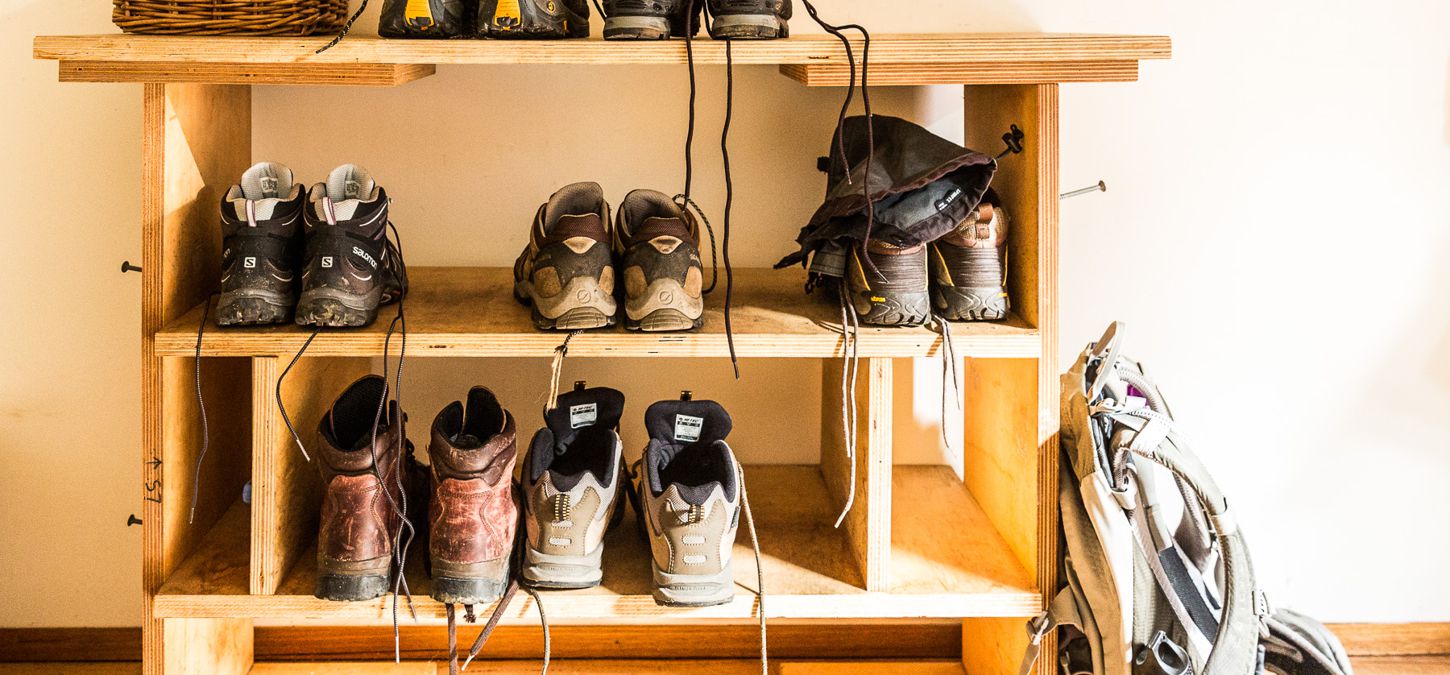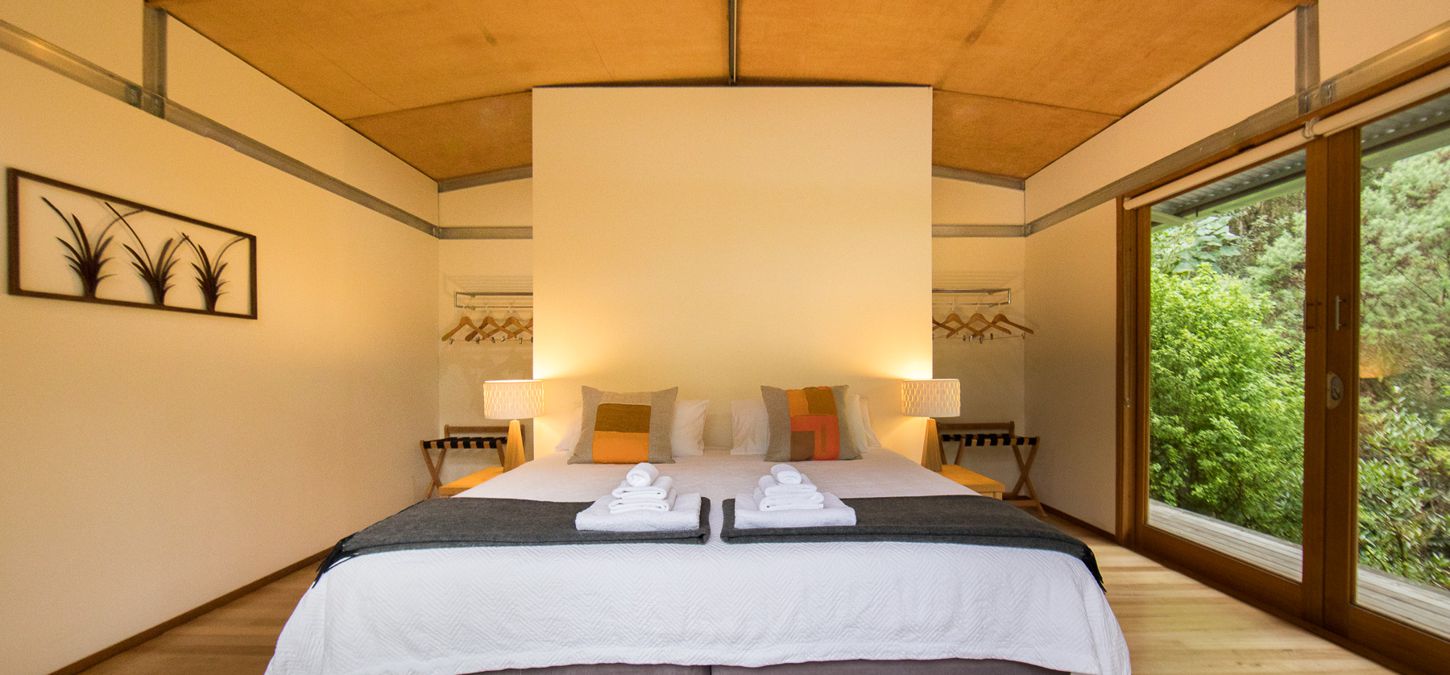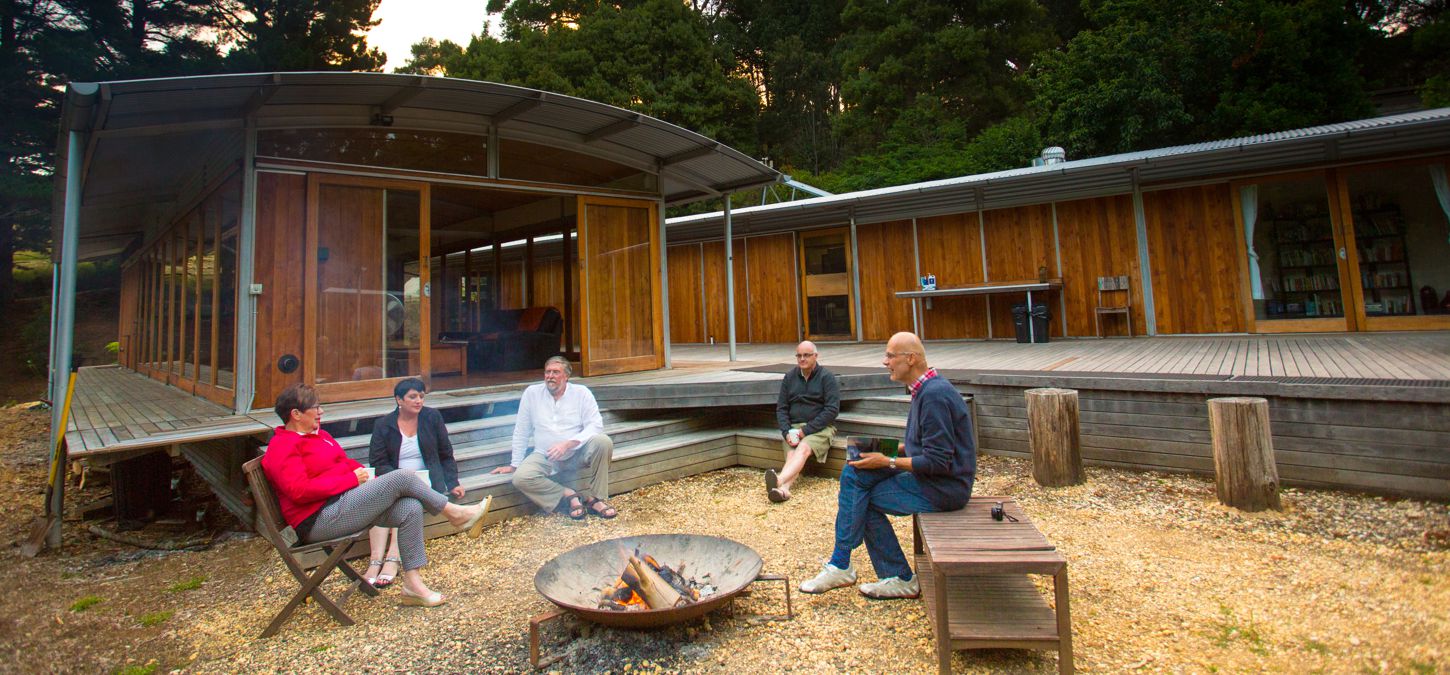 Twelve Apostles Lodge Wild Wellness Walk (4 days) 
Price per person for departures (inc. GST) (Non-commissionable)
Minimum guests 6
Maximum guests 9
Departure:  Meet for departure at 7:45am sharp at the Travelodge Southbank Restaurant, 9 Riverside Quay, Southbank VIC 3000 (central Melbourne location for all departures). 
Return Transfer: 5:30 - 6pm. Arrive Melbourne (Travelodge Southbank). We can drop you at Tullamarine Airport between 5 and 5:30 (for domestic flights from 6.30pm/international flights after 7:30pm).
Direct bookings only:
Special Interest Walks - Terms and Conditions 
All prices are quoted per person in $AUD including GST
A deposit of $500 per person and the Guest Information Form are due within five days of booking
Minimum numbers are required three months prior to departure, on October 12, 2020.
The final payment is due three months before departure. For reservations made three months or less from departure date, full payment is due at time of booking.
Cancellations after October 12, 2020 are not refundable. Bookings are transferable.
Prices are subject to change without notice
Travel and pre and post-trip accommodation expenses are not included.

This walk cannot be booked in conjunction with any other offers or discounts.
Please view our traditional booking terms and conditions 
After the minimum number of bookings has been achieved, the trip is guaranteed to depart.  If for any reason, the trip cannot go ahead due to restrictions placed upon travel due to Covid-19,  guests will be permitted to reschedule their walk to the new date provided for the Matilda Wand departure with no additional fee or rebook a traditional Twelve Apostles Lodge Walk within 24 months. Guests can transfer to a traditional Twelve Apostles Lodge Walk itinerary and have the difference in price refunded. Cancellations for other reasons will incur our standard cancellation fees.
Price Includes
Wild Wellness, Wild Things Anatomy and Dr Chris David practises throughout the expedition
Return transfers between Melbourne and the walk base
Optional airport drop off day 4
3-night lodge stay, all linen and towels
3 breakfast, 4 lunch, 3 dinners
Daily morning and afternoon tea
Use of daypack, waterproof jacket, poles, ankle gaiters and water bottles
Daily guided walks, with professional eco-guide
Vehicle support daily
All entrance & national park fees
12 Apostles scenic helicopter flight
Single supplement
We do not charge for a single supplement as all rooms can be divided into two with dual access to the bathroom.
Additional information
Have a burning question?  Check out our

 

 

FAQ page, and if you need further help please don't hesitate to

 

contact our friendly reservations team
Ready to start planning your next adventure and want to know what to bring.

 

Check out our detailed gear list, including details on what's provided. If your unsure about anything on the gear list please call us or talk to you local outdoor adventure store.
Need help deciding? Talk to an expert
We're here to help 9am – 5pm Monday to Friday, otherwise, email us anytime and we'll be in touch.