Kangaroo Island Cape du Couedic Cottages Walk
October 7-10, 2022 | October 14-17, 2022 | Price $3,195 per person
Journey to remote Kangaroo Island and be the first to experience our new four-day guided walk with lightweight daypacks along the Kangaroo Island Wilderness Trail. Return each evening to chef-inspired meals paired with local beer and wine, in the comfort of the newly renovated Cape du Couedic Cottages
Kangaroo Island is located 20 kilometres off the South Australian coast, and is home to an abundance of native wildlife such as koalas, sea lions, diverse bird species and of course, kangaroos. Immerse yourself in the unique landscape of wild and raw beauty featuring towering sea cliffs and spanning sunsets of an evening, you'll feel completly at peace in the remote wilderness of Kangaroo Island.  
 Direct bookings only.  For all enquiries and bookings please contact the Australian Walking Company on +61 3 5237 4276 or email bookings@auswalkingco.com.au.  
Day 1: Adelaide, to Flinders Chase National Park and 
Cape du Couedic
Approximately 3 hours walking | Distance: 8 km
Our bus collects guests in Adelaide and travels via the Sealink ferry to the Flinders Chase National Park Visitor Centre (FCNPVC). 
Our first walk on Kangaroo Island is a 3-hour walk plus birding pauses through the diverse habitats of Rocky River. Passing through forest and woodland offers excellent chances to observe honeyeaters and spring orchids. The trail is even and enables us to complete both the Platypus waterholes Walk and Black Swamp hike.
A strong theme at the beginning of the trail is the history of Gondwana and mega-fauna, as it is this area where the discovery of megafauna fossils was made. Walkers pass through a mixture of scrubland and forest types and low lying country that follows the Rocky River bed. This area has a significant density of birdlife and has numerous diverse native plant species that flower through different seasons. 
Our final destination is the Cape du Couedic Cottages, an hour on form our first walk. We'll settle into three heritage-listed Light Keeper residences, built from hand-carved limestone back in 1907.  Thoughtfully restored, these historic quarters feature twin-share rooms and sensitively designed new bathrooms.  Our communal pavilion - The Commons - is where we'll share good wine and a barbeque bounty featuring local Kangaroo Island sourced lamb.
Tonight, watch the sun sink over the sea as guides prepare a three-course meal. Enjoy a glass of wine as you settle into the evening.  These sessions are informal and enable lots of discussion about the day's habitats and wherever such conversations lead. The open fire and a glass of wine make it a nice way to end the day. 
Day 2: Snake Lagoon to Cape du Couedic
Approximately 7 hours walking | Distance: 14km
After a rejuvenating sleep, breakfast and coffee or tea, we pack our lunches into light daypacks and drive one hour to the start of our walk at Snake Lagoon.
The first 2 km walk is through eucalypt forest, followed by a 5 km walk along Maupertuis Bay beach and then a brief climb that winds along the edge of some spectacular limestone cliff formations. It is a most remote section of the trail, with some sections of high exposure to the prevailing Westerly and South-westerly winds. With the lighthouse coming in and out of view, the track skirts imposing coastal cliffs and returns us back to the cottages.
At Cape du Couedic the historic Light Station, Lighthouse and Light Keeper residences and associated buildings provide an interesting historical narrative. This area is an iconic site with the opportunity to visit the nearby New Zealand Fur Seal colony as a side trip either at the end of the day or early the following morning.
Day 3: Cape du Couedic to Sanderson Bay
Approximately 7 hours walking | Distance: 15km
The morning's walking follows the cliff edge to the Weir's Cove historic site which provides a glimpse into the hardships presented by the lighthouse keeper's remote lifestyle. The trail passes through low lying coastal heath and low eucalypt forest to reach another iconic site - the spectacular granite formations of the Remarkable Rocks. The trail then follows the cliff edges with unobstructed views along the southern coast of Kangaroo Island. A short 2km return spur walk takes walkers to Sanderson Bay beach where the Southern Ocean dumps huge waves upon the shore.
Birds today include Scarlet Robin, Yellow-tailed Black-cockatoo, Striated Thornbill, Red & Little Wattlebirds, Brown-headed Honeyeater and Grey Currawong.
After a day of epic coastline vistas, we'll drive back to the cottages and retire for another evening shared with like-minded naturalists, local wine, beer, cheese and seafood. 
Photo Credit credit: Remarkable Rocks by Isaac Forman
Day 4: Sanderson Bay to Hanson Bay
Approximately 5 hours walking | Distance: 11.5 km
Following an early hot breakfast, there's a short shuttle to take us to the start of today's walk.
Today's walking traverses the southern cliff edge, descending gradually into coastal eucalypt forest to a human-powered punt crossing over the South West River, and out onto Hanson Bay where lunch is taken on the eastern headland.  This is an idyllic place for lunch and to finish of our walk.
Guests are collected for the return bus and ferry journey back to Adelaide.  A scheduled stop at a local distiller provides the opportunity for guests to freshen up, share a celebratory drink and have the opportunity to purchase local produce prior to their departure.  
Cape du Couedic Lighthouse Keeper's Cottages
Three heritage listed cottages have been sensitively restored, featuring new bathrooms and furnishings.  Dating back to 1907, each cottage is made from locally sourced hand-carved limestone. All the houses are identical in design with three bedrooms, kitchen, and lounge (kept to original condition) with modern converted bathrooms. These beautifully renovated buildings provide a unique heritage accommodation experience for our guests, who can fully immerse themselves in the history and narrative of the area. The twin-share rooms are a welcome retreat, atop the headland, and appointed with the work of Kangaroo Island artisans.
At this location, we have
The Commons
- a communal space for unwinding and dining around the shared table.  This open pavilion is the heart of tonight's Village Square locale, where your guides and host busy themselves preparing a barbeque banquet.  Later, retire to your cosy Cape du Couedic lighthouse keeper's cottage.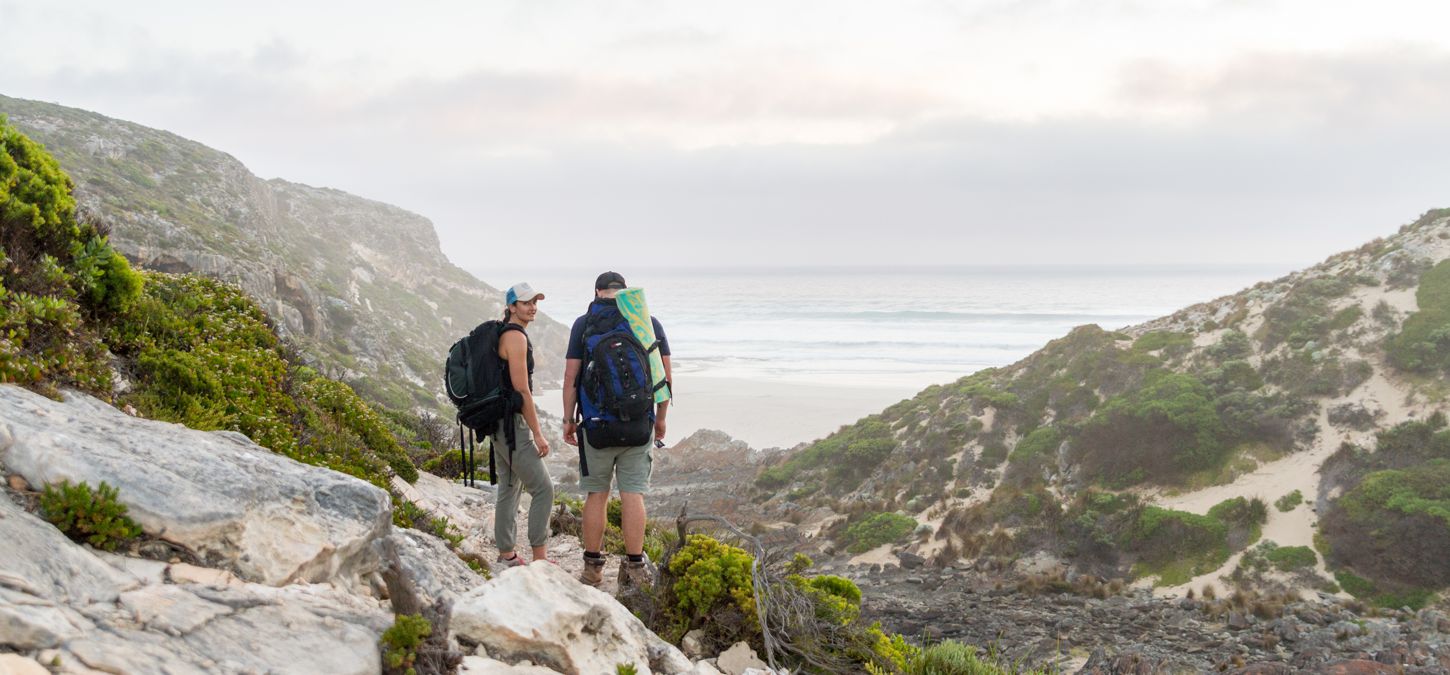 Kangaroo Island Cape du Couedic Cottages Walk
Price per person for departures (inc. GST) (Non-commissionable)
October 7-10, 2022 | October 14-17, 2022 | Price $3,195 per person
Each trip requires a minimum of 7 guests (Twin Share). The maximum is 14.
Direct bookings only:
Single supplement
All accommodation is twin share.  Single travellers may be required to share a twin room with another walker of the same gender if departure fills to capacity.  To guarantee a single room for the duration of the walk a supplementary price of 75% of the full fee will apply.  This must be requested at the time of booking.
Special Interest Walks - Terms and Conditions 
These are in addition to our standard booking terms and conditions.
All prices are quoted per person in $AUD including GST
A deposit of $500 per person and the Guest Information Form are due within five days of booking
The final payment is due 90 days before departure. For reservations made three months or less from the departure date, full payment, the Indemnity Form and Health Declaration are due at the time of booking.
Cancellations

more than 90 days from the scheduled departure date, a fee of $350 per person will be charged with the balance of payment refunded;
between 90 and 60 days prior to departure, you will be charged 50% of the full trip cost with the balance refunded; or
within 60 days of departure, no refund is available. Bookings are transferable.

Travel and pre- and post-trip accommodation expenses are not included.

This walk cannot be booked in conjunction with any other offers and discounts.
Price Includes
Return transfers from Adelaide to Kangaroo Island
Accommodation, linen and towels
3 breakfasts, 4 lunches, 3 dinners
Daily morning and afternoon tea
Non-alcoholic drinks and a selection of house wines (oh... and we may have a secret stash of Kangaroo Island Gin!)
Use of daypack, waterproof jacket and water bottles
Daily guided walks, with two qualified guides for the duration of the walk
All national park fees
Need help deciding? Talk to an expert
We're here to help 9am – 5pm Monday to Friday, otherwise, email us anytime and we'll be in touch.