Kangaroo Island 'Birding' Walk
August 18-27, 2022 | Price $4,595 per person
Journey to remote Kangaroo Island. Walk to beautiful, remote places with Inala's celebrated birding guides, and discover Kangaroo Island's endemic birds. Improve your knowledge of birds, fieldcraft and photography.
Join Elaine, Penny and a small group, led by our expert guides, and traverse this wonderfully remote landscape. Kangaroo Island offers an awe-inspiring escape, teeming with birds and unique flora and fauna. 
Nine thousand years ago, Kangaroo Island separated from mainland Australia forming a unique landscape of wild and raw beauty.  Spend four days taking a range of short walks to diverse eco-systems where you can set up and paint. This wild outpost is located 20 kilometres off the South Australian coast.  Gondwandan megafauna, abundant wildlife, towering sea cliffs and broad sunsets with a glass of red in hand form part of your discovery of the Kangaroo Island's tracks.  Our intimate groups of no more than 14 walkers will stay in architect-designed private accommodation with sumptuous meals prepared by your guides.
 Direct bookings only.  For all enquiries and bookings please contact the Australian Walking Company on +61 3 5237 4276 or email bookings@auswalkingco.com.au.  
Elaine McDonald
I've been photographing birds i for about 15 years - since buying my first digital camera. Raptors caught my attention initially, but my interest soon widened to include all birds. I also like macro photography - insects, plants and fungi being my favourite macro subjects. I sell my bird photographs and calendar from my weekly stall at Hobart's Salamanca Market in Hobart.
Bird photography is all about patience, skill and opportunity. There are multiple factors and challenges faced by every bird photographer. You need to be in the right place at the right time with the right equipment on the right settings. You also need good weather and good light - the list goes on.
You should also have an understanding of the ethics of bird photography and concern for the wellbeing of your subject. My advice is to learn everything you can about your subject - learn its call, its behaviour and its habitat. The most important thing though, is to have patience and be prepared to walk away if your subject shows signs of stress. Always show respect for the bird, only go as close as it will allow you and never cross that line. Don't harass any animal just to get a picture. You need to genuinely love nature to have your work show it. It is my hope that my photography shows how beautiful our birds and the fragile habitats that support them are, and that maybe I can make a difference to someone's perception of that world.
Elaine McDonald Facebook | Tasmanian Bird Sightings and Photography Facebook
Penny Geard
I've always loved photography. When I left school, I worked full-time as a clinical photographer's assistant in the University Medical School for a few years. Many years later, in 2006, I bought my first DSLR and I quickly gravitated toward birds as my favourite subject, attracted by the challenges that they present. You need a love of nature to become a bird photographer. I am generally much more interested in capturing aspects of bird behaviour than just looking for aesthetically pleasing images, although I always hope to end up with a bit of both.
Capturing great moments results from a combination of subject knowledge, fieldcraft, technology - and a lot of luck. As a bird photographer, I believe the greatest asset you have is the knowledge of your subject. This means you should know how to identify the species you see, know what species can be found in a certain habitats and how to get close to them, without causing them alarm. You should also know your subjects' habits, behaviour and calls and have your camera settings ready ahead of time so you can react instantly. It comes down to putting in the time and effort needed to learn about your subject along with the technical and artistic aspects of the work - all of which are equally important.
Bird photography isn't easy. Birds fly away and it takes many images to find a gem. I take thousands of bad photographs but only show the good ones.
Kangaroo Island Bird Walk (4 Days)
Our intimate groups of no more than 14 walkers will stay in architect-designed Cape du Couedic Cottages, explore the numerous short walks of Flinders-Chase National Park and enjoy sumptuous meals prepared by our naturalist guides.
Kangaroo Island has no endemic birds but it does have seventeen endemic sub-species who have diverged from their mainland counterparts during the ten thousand years that the island has been isolated. These subspecies look very similar but have slight differences in certain physical features. For example, the Crimson Rosella is slightly bigger and darker, the White-browed Scrubwren has streaking on its breast, the Purple-gaped Honeyeater is larger and darker and the New Holland Honeyeater has a smaller bill and wings. 
Kangaroo Island's Endemic Subspecies:
Glossy Black-Cockatoo Calyptorhynchus lathami halmaturinus
Crimson Rosella Platycercus elegans melanopterus
Boobook Ninox novaeseelandiae halmaturina
Superb Fairy-wren Malurus cyaneus ashbyi
Southern Emu-wren Stipiturus malachurus halmaturinus
White-browed Scrubwren Sericornis frontalis ashbyi
Shy Heathwren Calamanthus cauta halmaturina
Striated Thornbill Acanthiza lineata whitei
Brown Thornbill Acanthiza pusilla zietzi
White-eared Honeyeater Lichenostomus leucotis thomasi
Purple-gaped Honeyeater Lichenostomus cratitius cratitius
Little Wattlebird Anthochaera chrysoptera halmaturina
Red Wattlebird Anthochaera carunculata clelandi
New Holland Honeyeater Phylidonyris novaehollandiae campbelli
Brown-headed Honeyeater Melithreptus brevirostris magnirostris
Western Whipbird Psophodes nigrogularis lashmari
Grey Currawong Strepera versicolor halmaturina
Day 1: Adelaide to Flinders Chase and 
Cape du Couedic Cottages
Approximately 2 hours walking | Distance: 4.2km
Following your early morning short flight from Adelaide, we'll collect you from Kingscote Airport and transfer to our departure base in Cygnet River.  At the base, you'll be introduced to your fellow walkers and your host and two guides will run through a gear check and trip briefing before we set off to Flinders Chase National Park.
We depart from the Flinders Chase National Park Visitor Centre and right from your very first trail steps, we dive deep into the Gondwanan landscape.  It is here that the discovery of ancient megafauna and extinct wildlife was made - the likes of the Tasmanian tiger and the short-faced kangaroos.
We'll walk and find places to stop and bird along the Snake Lagoon hike where a mix of scrubland and low lying country follows the bed of Rocky River.  This area is known for its prolific birdlife and diverse flowering native plant species.  This popular trail winds through Sugar Gums and mallee before descending into the Rocky River valley. The trail crosses Rocky River and meanders along its bank to the mouth, providing spectacular views through the valley and across the Southern Ocean.
Then, it's a short drive back to our base for the next four days, the Cape du Couedic Cottages. We'll settle into three heritage-listed Light Keeper residences, built from hand-carved limestone back in 1907.  Thoughtfully restored, these historic quarters feature twin-share rooms and sensitively designed new bathrooms.  Our communal pavilion - The Commons - is where we'll share good wine and a barbeque bounty featuring local Kangaroo Island sourced lamb.
Day 2: Cape du Couedic Spur Trail, Weir's Cove and
 the Admirals Arch Walk
Approximately 4 hours walking | Distance: 10km
Birding highlights today are mixed with stunning architecture, geology and long-nosed fur seals.
The Cape du Couedic Spur Trail heads south, connecting with the Weirs Cove Hike and onto Admirals Arch Walk. At Weirs Cove see the remains of the flying fox which hauled supplies up the 90 metre cliff from the jetty below, before continuing on your walk with the lighthouse looming ever so closer on the horizon. Passing the lighthouse, built in 1909, continue down to Admirals Arch to see long nosed fur seals basking in the sun on the rocks and inside the cave.
A short stroll from the cottage, down the headland to reveal Admirals Arch, a significant geological formation. View the pounding waves of the Southern Ocean. As you walk down, watch out for long-nosed fur seals basking in the sun on the rocks. The boardwalk descends stairs down into a bay before emerging in Admirals Arch, where viewing platforms allow you to watch the seals closer.
Tonight, watch the sun sink over the sea as guides prepare a three-course meal. Enjoy a glass of wine as you chat about birding.  These sessions are informal and enable lots of discussion about the day's habitats and wherever such conversations lead. The open fire and a glass of wine make it a nice way to end the day. 
Day 3: Weir's Cove to Remarkable Rocks Walk
Approximately 6.5 hours walking | Distance: 15km
OUr day of birding today includes the coastal heath and eucalypt forest habitats before we again arrive back on the coast. 
Our trail passes through low lying coastal heath and eucalypt forest to reach another iconic site - the spectacular granite formations of Remarkable Rocks. We then walk the cliff-hugging trail ahead, delivering unobstructed views along the southern coast of Kangaroo Island. The days walking concludes at Sanderson Bay where the Southern Ocean dumps huge waves across the shore.
After a day of epic coastline vistas, we'll retire to the cottages for another evening shared with like-minded naturalists, local wine, beer, cheese and seafood. 
Day 4: Cape du Couedic Cottages Hanson Bay to Adelaide
Hanson Bay: where the painting is complimented by a swim and lunch
This small, secluded bay sits along the south coast of Kangaroo Island just west of the famous Kelly Hill Conservation Park. It is accessible via West River Road, which runs south off of South Coast Road. West River Road is an unsealed road, but like many places the harder it is to get to the more beautiful it is. The views east are expansive and stunning. This last morning is a final chance to witness the incredible combination of landscape, colour and light that is Kangaroo Island.
Our bus collects us for transfer back to Cygnet River Base where we celebrate with canapes and a glass of local wine among new friends. We'll then deliver you to the airport for your return flight, or for those wishing to stay on, we will transfer you to your Kingscote accommodation.
Cape du Couedic Lighthouse Keeper's Cottages
Three heritage listed cottages have been sensitively restored, featuring new bathrooms and furnishings.  Dating back to 1907, each cottage is made from locally sourced hand-carved limestone.  The twin-share rooms are a welcome retreat, atop the headland, and appointed with the work of Kangaroo Island artisans.
At this location, we have
The Commons
- a communal space for unwinding and dining around the shared table.  This open pavilion is the heart of tonight's Village Square locale, where your guides and host busy themselves preparing a barbeque banquet.  Later, retire to your cosy Cape du Couedic lighthouse keeper's cottage.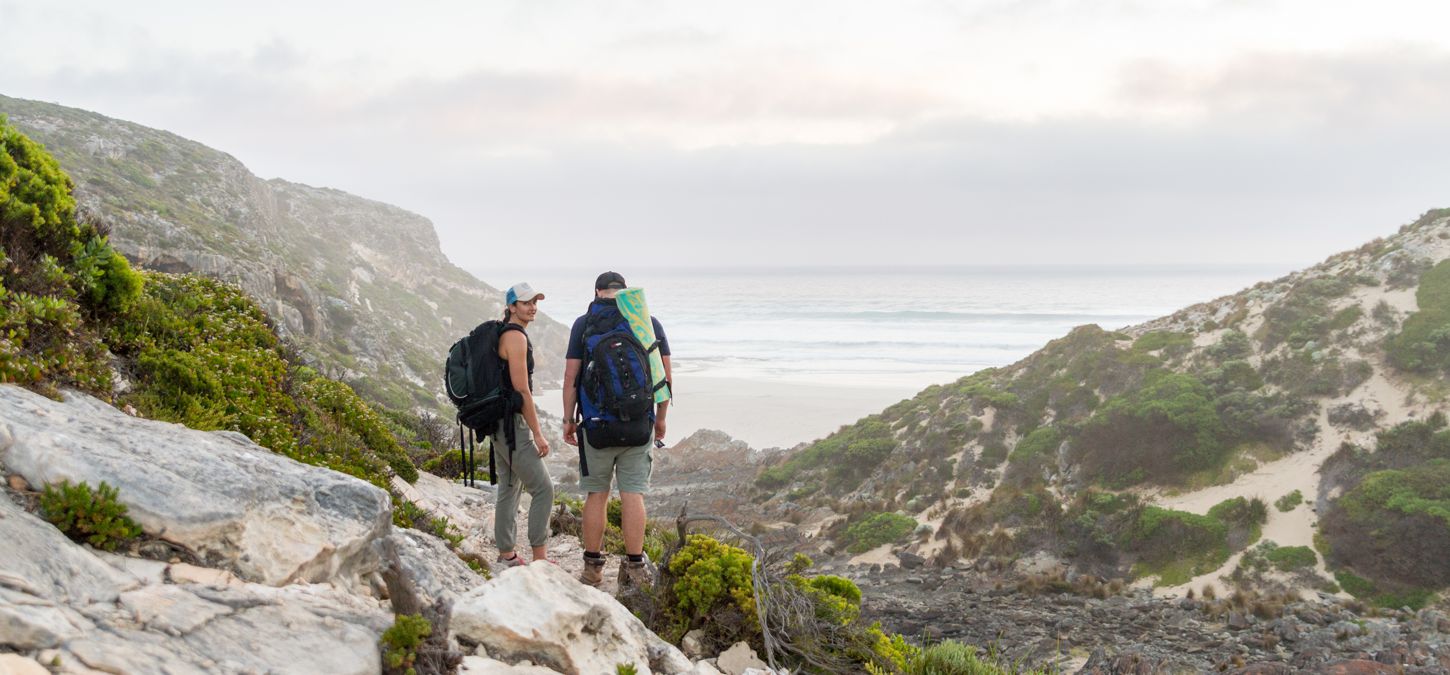 Kangaroo Island 'Birding' Walk
Price per person for departures (inc. GST) (Non-commissionable)
| | |
| --- | --- |
| August 18-22, 2022 | $4,495 |
Each trip requires a minimum of 7 guests (Twin Share). The maximum is 14.
Direct bookings only:
Single supplement
All accommodation is twin share.  Single travellers may be required to share a twin room with another walker of the same gender if departure fills to capacity.  To guarantee a single room for the duration of the walk a supplementary price of 75% of the full fee will apply.  This must be requested at the time of booking.
Special Interest Walks - Terms and Conditions 
These are in addition to our standard booking terms and conditions.
All prices are quoted per person in $AUD including GST
A deposit of $500 per person and the Guest Information Form are due within five days of booking
The final payment is due 90 days before departure. For reservations made three months or less from the departure date, full payment, the Indemnity Form and Health Declaration are due at the time of booking.
Cancellations

more than 90 days from the scheduled departure date, a fee of $350 per person will be charged with the balance of payment refunded;
between 90 and 60 days prior to departure, you will be charged 50% of the full trip cost with the balance refunded; or
within 60 days of departure, no refund is available. Bookings are transferable.

Travel and pre- and post-trip accommodation expenses are not included.

This walk cannot be booked in conjunction with any other offers and discounts.
Price Includes
Return flights from Adelaide to Kingscote, Kangaroo Island 
Pick-up from Kingscote Airport and transfer to our walker base
4 nights accommodation, all linen and towels
4 breakfasts, 5 lunches, 4 dinners
Daily morning and afternoon tea
Non-alcoholic drinks and a selection of house wines (oh... and we may have a secret stash of Kangaroo Island Gin!)
Vehicle transfer of overnight luggage between trail accommodation (we only walk with lightweight day packs)
Use of daypack, water proof jacket, poles, ankle gaiters and water bottles
Daily guided walks, with two qualified guides for the duration of the walk 
Trip host at each night's accommodation 
All entrance & national park fees
One specialist birding guide
Need help deciding? Talk to an expert
We're here to help 9am – 5pm Monday to Friday, otherwise, email us anytime and we'll be in touch.